This course teaches students the principles of food safety and the 12 steps required to implement the HACCP food safety management system. All course content including videos, practice questions, and discussion board are freely accessible to anyone who register for the class. Students who successfully complete the final exam will receive a HACCP Certificate from the International HACCP Alliance.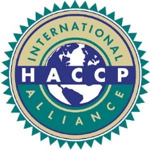 Unique Benefits of this Course
Free access to training videos, discussion board, and practice quizzes to improve your food safety awareness
Opportunity to share in an online discussion forum with other food safety professionals
Learn practical skills to design and develop your food safety plan
Earn USDA-recognized certificate as evidence of your food safety knowledge
Take charge of your study time and schedule
Instructor: Dr. Courtney Simons
When: You may begin at any time
Time: This course will take approximately 16 hours to complete  
Cost: Accessing all course materials is free. Students who want to receive the International HACCP Alliance Certificate pay $99 followed by completion of the final HACCP exam
Credit: HACCP Alliance Certificate
Technology Requirement: Computer with internet access
Registration: Follow these instructions to gain access to the course and begin learning now.