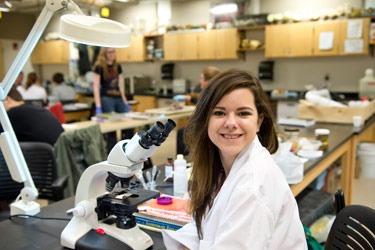 Where else can you explore a lake in your own back yard or travel across the country digging for pre-historic creatures with your renowned professor?  The Lake Campus can give you a great start on your bachelor's degree (up to two years!) by taking courses in the math and science unit. Students majoring in psychology, earth and environmental science, chemistry, biological sciences, or pre-med can get their degree started by taking our math and science courses!
Associate of science programs in biological sciences, chemistry, earth and environmental sciences, and an associate of arts in psychology are available. Students can also choose to add a minor, such as psychology, to their major program of study. Students can pursue employment after earning an associate degree, but many choose to advance their education by completing a bachelor's degree program either here or at our Dayton Campus.
*Wright State is implementing a new catalog for the 2015-16 academic year. While the online catalog is updated regularly, for the most up-to-date program requirements, please see your academic advisor or the faculty program director or coordinator.