The apartments sit just west of campus, and are viewable from James F. Dicke Hall. Knapke Villa, completed in Fall 2011, and East Villa, completed in Fall 2014, consist of townhouse-style apartments that have a beautiful view of Grand Lake St. Marys.  Each apartment has four or five bedrooms, with the option of having a private or a shared bedroom. Students are encouraged to request roommates if they are living in a shared bedroom.
The apartments are completely furnished, with a full kitchen and a bathroom for every two bedrooms as well as a living and dining area. The cost of housing is part of the student's tuition bill and financial aid may be applied. The cost for a shared bedroom is $2,000 per semester and a private bedroom is $2,900 per semester.
Applications are being accepted for 2014-2015
There are approximately 30 beds in each unit available on first-come, first served basis
A $150 deposit will be required (For deposit refund information and deadlines, please see "What I Need to Apply," below.)
Students can request their roommates
Trying to decide if you are going to commute or live on campus? We have created a tool to help you determine if it would be cost efficient. Check it out (PDF).
Please refer questions concerning Lake Campus Housing to housing_lake@wright.edu, or the Student Services office in Dwyer Hall.
Amenities
General Information on Lake Housing Amenities
Town house-style apartments
Cost: $2,000/semester for a shared bedroom (double, 14-15 year)
Cost: $2,900/semester for a private bedroom (single room, 14-15 year)
Cost of housing is part of the student's WSU tuition bill (students may use financial aid)
Apartments are furnished
Lake View
Apartment Options
Four Bedroom Plan
The four bedroom plan has two bedrooms and a bathroom downstairs and two bedrooms and a bathroom upstairs. Each apartment has a private bedroom and a shared bedroom upstairs and downstairs allowing six students to live in each four bedroom apartment.
Five Bedroom Plan
The five bedroom plan has four single bedrooms upstairs and one shareable bedroom downstairs, with three full bathrooms. This allows for five or six students to live in each five bedroom apartment.
BOTH UNITS HAVE
A full kitchen, living room, two bathrooms, and are furnished, including the living room, dining area, and bedrooms.  Other features include, Cable TV, High speed internet connections (wired and wireless), and a telephone line.  Residents are encouraged to bring traditional telephones for the apartment, as a back up to personal cell phones.
Private bedrooms (singles): $2,900/semester for the 14-15 year
Shared (double): $2,000/semester for the 14-15 year
Floor Plans
4 Bedroom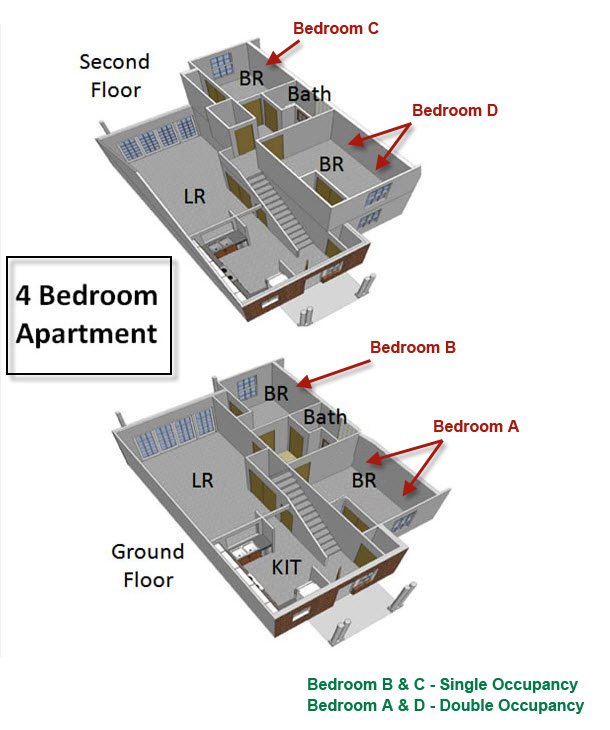 5 Bedroom
What I need to Apply
Student housing applications are currrently open. Prospective students can apply online.
In addition to providing name, University ID (UID) number, and related information, students will be asked for the following:
A summary of any special needs or disability
A ranking of room preferences: Single or double bedroom
Roommate preference(s).  These are not required, but strongly encouraged.
All roomate requests must be mutual
You will need the UIDs of your roommates as well
Housing pre-payment of $150, submitted through the website.  This pre-payment will be applied to the first semester housing fee.
Cancellation information:
Cancel on or before June 1 to receive a full refund by emailing housing_lake@wright.edu.
Cancel in writing beginning June 2 through July 1 to receive a 50% refund by emailing housing_lake@wright.edu.
Cancellations received after July 1 will forfeit the $150 deposit; no refund will be given.
Assignments will be made according to the time and date of application for students who have submitted a complete application with pre-payment.  Roommate requests will be honored first.  A waiting list will be maintained after assignments have been completed.  The housing agreement features a nine month term (August through April) excluding winter break (with an option for summer).