Wright State

 University–Lake Campus is proud to support an Advanced Manufacturing program for businesses, technicians, and students in West Central Ohio. Started in 2007 with a large grant from the Ohio Department of Labor, the Lake Campus along with three other schools created a consortium, wrote curriculum and set up lab space to train maintenance technicians working in manufacturing and food processing. The consortium dissolved in 2011 but WSU-Lake Campus continues to offer the popular program.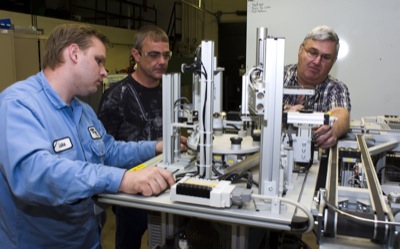 SkillsTrac is a comprehensive industrial maintenance training program, designed for our rapidly changing manufacturing industry. This program is geared towards full-time adult incumbent workers working as a maintenance tech or incumbent workers in other fields who would like to work in the maintenance field. WSU-Lake Campus offers the SkillsTrac program as part of the coursework in the Associates of Technical Studies-SkillsTrac concentration.
SkillsTrac is a blended program, offering online learning from ToolingU SME, a partner since 2009. Online classes can be taken anytime and anywhere with the hands-on validation labs taken at the Lake Campus. The program is composed of multiple skill modules and each module builds upon the skills learned in earlier modules or your actual work experience. Employers or employees can take individual modules if a certain skill set is lacking in the employee. Each module is composed of smaller certificated levels.