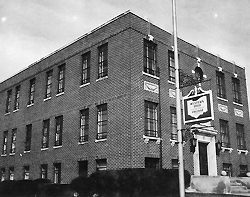 In response to a growing desire for residents of the region to have access to higher education, a group of forward-thinking citizens from across Auglaize, Darke, Mercer, and Van Wert Counties organized early in 1962. The organization became officially incorporated as the Western Ohio Educational Foundation (WOEF). Its sole purpose was to obtain higher education opportunities for the residents of Western Ohio. After establishing a cooperative agreement with Ohio Northern University, the Western Ohio Educational Foundation officially opened its doors in the fall of 1962. With enrollment at 285 students, more than twice the number anticipated, the newly established foundation had begun the process whereby the communities' citizens could have immediate access to a college degree.
At first, classes were held in a local high school, but as interest in the college continued to build, the WOEF Board was challenged to provide additional space and faculty for a growing number of students. Through a series of successful fund drives, the WOEF Board assured the growth of the college through the purchase of a vacant public school building in Celina. With the need for immediate facilities now secure, college enrollment continued to increase. As the community continued to require additional educational offerings, the WOEF Board voted in 1969 for the college to become fully affiliated with Wright State University as its sole branch campus.
The Wright State University –Western Ohio Branch Campus, as it was called then, quickly reached maximum student capacity for the building so recently purchased. During a campus visit in 1969, Governor James A. Rhodes recognized these "growing pains." Perceiving strong community support, Governor Rhodes issued yet another challenge to the young institution: "Find and purchase suitable land and the state will appropriate $2 million for a new building." With the WOEF Board's initiative, a massive fund-raising appeal spread rapidly throughout the surrounding communities. This successful campaign quickly led to the acquisition of a 173-acre site for the new campus on the northern shores of Grand Lake St. Marys. The first building on campus was Dwyer Hall, named in recognition of Minnie Dwyer's generous support and contains laboratories, classrooms, faculty and administrative offices, an auditorium, and student service facilities.
Ground was broken in 1979 to expand the facilities for inclusion of additional two-year technical programs. Andrews Hall continues to house the national award-winning Office Information Systems programs. Trenary was also added at that time, and currently houses the Mechanical Engineering facilities. These buildings were named for the Andrews and Trenary families in recognition of their generous support. The dedication of these two buildings in September 1980 highlighted the Lake Campus's historic responsiveness to local needs and the community's active involvement. The Crown Amphitheatre and the marina were added in 1987, taking advantage of the Lake Campus beautiful setting and proximity to Grand Lake St. Marys, and adding a further dimension to the many possibilities at Wright State University-Lake Campus.