What Is TechCred?
TechCred helps Ohioans learn new skills and helps employers build a stronger workforce with the skills needed in a technology-infused economy.
These technology-focused credentials take a year or less to complete and prepare current and future employees for the technology jobs Ohio employers need.
TechCred Maintenance Program
Choose any Traditional SkillsTrac Module or one of these Customized Modules to Apply for TechCred Reimbursement. More information on TechCred can be found here. 
Fundamental Maintenance Technology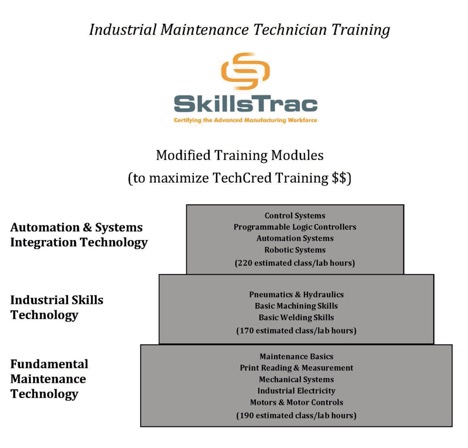 Objectives:
Acquire the basics of manufacturing safety & materials
Learn the fundamentals of mechanical systems
Understand applied math & precision measurement instruments
Know how to read basic blueprint & electrical prints
Have a solid knowledge of electrical meters, Ohm's Laws, & AC/DC power
Learn electrical wiring/distribution & contactors & 3-wire start/stops
Become completely familiar with E-stop & motor control relays
Ability to install & modify variable frequency drives
(estimated 122 online hours and 68 lab hours)
Industrial Skills Technology
Objectives:
Capable of using a manual mill & surface grinder
Understand subtractive manufacturing using mill & lathe
Learn to operate engine lathe controls, & proper tool/workholding usage
Hook-up & operate MIG welding unit
Learn to use plasma cutter and material prep
Able to TIG weld and use aluminum alloys
Know fluid power symbology & prints to design/build pneumatic control circuits
Design & build hydraulic circuits & use sequence valves
(estimated 102 online hours and 68 lab hours)
Automation & System Integration Technology
Objectives:
Understand LogixPro PLC software, hardware & numbering codes
Learn PLC inputs/outputs & basic programming
Understand all aspects of PLC sequencing, data manipulation, & installation
Transition to RS5000 CompactLogix to write complex program
Able to construct & modify PLC to control all station components
Learn HMI applications & animation using numerical inputs/outputs
Draw complete electrical system & write program w/proper sequence of operations
Learn vision systems, troubleshooting, process improvement & advanced programming
Use teach pendant & programming to understand Motoman robotic systems
Use teach pendant & programming to understand FANUC robotic systems
(estimated 68 online hours and 152 lab hours)
TechCred Tool & Die Program
Year 1, Year 2, or Year 3 Module must be taken consecutively. Each module is eligible for individual TechCred funding.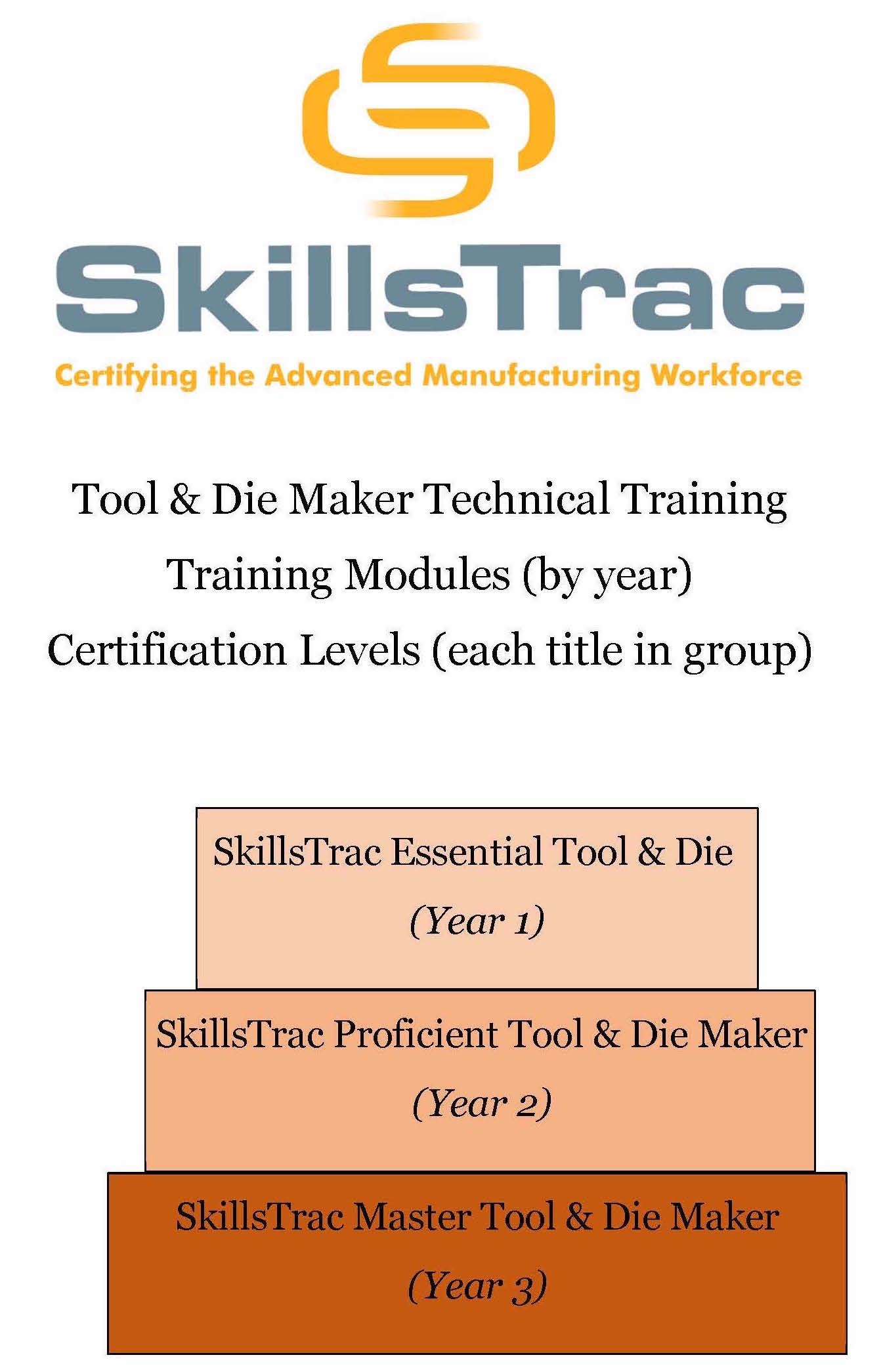 SkillsTrac Essential Tool & Die (year 1)
Objectives:
*    Shop/machinery safety & applied mathematics
*    Hand tools & basic blueprints & visual inspection
*    Metal cutting/ manual mill & engine lathe
*    Grinding & welding metals
*    Plasma cutting basics & basic industrial electricity
(estimated 118-120 online hours and 108 lab hours)
SkillsTrac Proficient Tool & Die Maker (year 2)
Objectives:
*    Set up basic jigs/fixtures; fabricate cutting fixtures
*    In-depth grinding/cutting skills
*    Advanced manual mill & Engine lathe
*    Advanced Plasma cutting
*    Flux-cored MIG welding & Solid wire MIG welding
*    Advanced applied mathematics
*    Advanced jigs/fixtures
*    Fabricate v-pocket fixture & slide punch.
*    Understand subtractive manufacturing using mill & lathe
(estimated 61-63 online hours and 120 lab hours)
SkillsTracMaster Tool & Die Maker (year 3)
Objectives:
*    Proficient in subtractive machining operations
*    Die basics include fabricating hole punch & die
*    Materials classification/properties
*    Effects of heat on materials including steel
*    TIG welding & aluminum arc welding
*    Use of electrodes/applications & weld inspections
(estimated 76.5 online hours and 92 lab hours)
Resources
Contact
For more information please call the Business Enterprise Center at Wright State University - Lake Campus.
419-586-0902 or 1-800-237-1477 ext. 8402
Carol Jones, Program Manager
Richard Haney, Technical Trainer