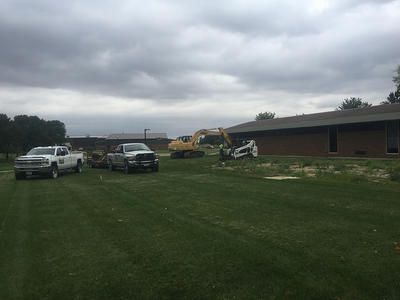 CELINA, OH – Construction on the Extension Building Project at Wright State University – Lake Campus began this week. This renovation and construction project will add over 7,000 square feet to Andrews Hall and will include a new Library and Technology Center, Nursing Lab and Science Education Lab. The $2.8 million project is slated to be complete by the Fall of 2019.
 Muhlenkamp Building Corporation in Coldwater, OH, will serve as the general contractor for this project. Funding for this project was provided numerous local donors and state appropriations.
"We are very fortunate to have received donations from local individuals, businesses and organizations to make this project a reality. State Representative Keith Faber also made a significant impact on this project by helping Wright State University – Lake Campus secure state funding," says Lake Campus Dean and CAO Jay Albayyari.  
For more information and updates about this construction and renovation project please visit http://lake.wright.edu/extensionbuilding.