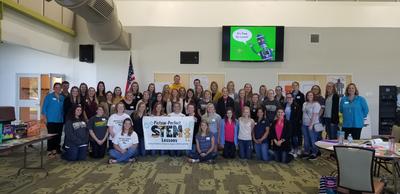 CELINA, OH – The Student's First Fund was established by Wright State University's Foundation to provide a source of one-time opportunity funding to support the student experience and must be self-sustaining within two years. The idea behind the grant was to support innovative ideas that assist students to succeed, thrive, persist, graduate and begin their careers.
Betsy Crites, Lecturer of Education and STEM Coordinator at Wright State University - Lake Campus was awarded a Student's First Grant and on Friday, September 20, 2019, the grant was put to use for professional development for elementary education students at the Lake Campus. Members of the Junior and Senior Classes attended a training on how to use the Picture-Perfect STEM Series, in their future classrooms, along with utilizing fiction and non-fiction picture books.
These education students will now present the information learned as one of the breakout sessions at the county-wide in-service training held in October for Mercer County teachers. 
"Next year's senior class will now train the incoming junior class, making this sustainable for many years to come," said Crites.