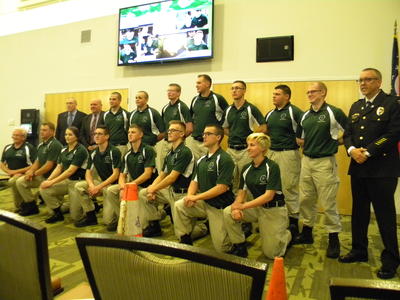 CELINA, OH - On Thursday, May 4, 2017, fourteen cadets graduated from the Grand Lake Law Enforcement Academy (GLLEA) at Wright State University – Lake Campus. The cadets endured an intense 715-hour program that began in August of 2016. The cadets have been selected to take the Ohio Peace Officer Training Commission Test. Successful completion allows the student to become a law enforcement officer in any jurisdiction in Ohio. All cadets also have the option of continuing to study for the bachelor's degree in criminal justice, one of the recently-added programs being offered at the Lake Campus.
The ceremony began with welcoming remarks from Lake Campus Dean and Chief Administrative Officer, Jay Albayyari. Mark Ernst, Commander of the GLLEA; Kip Wright, OPOTA Academy Instructor; John Lenhart, Shelby County Sherriff; all addressed the cadets at the ceremony.  A presentation of certificates recognized each individual cadet, following a showcase of photos and videos from the training exercises. The ceremony concluded with a brief reception for cadets and their family members and friends, as well as many of the twenty-six GLLEA instructors in attendance.
Photo Identification
The fourteen graduates of the 2017 Grand Lake Law Enforcement Academy are shown.
Bottom row, from left: OPOTA Academy Instructor Kip Wright, Jacob Allen, Kassi Edwards, Mitchel Karner, Shane Greives, Clayton Lyle, Logan Newbauer, Kristen Nixon.
Top row, from left: Shelby County Sheriff John Lenhart, Lake Campus Dean & CAO Jay Albayyari, Ethan Clouner, Aaron Hall, Nathaniel Kramer, Tristan Moore, Ledgen Parker, Trey Hecht, Thomas Walter and GLLEA Commander Mark Ernst.