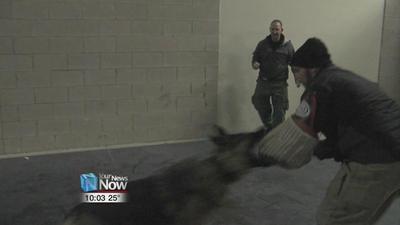 For the second year in a row, Wright State Lake Police Cadets trained at the Midwest Shooting Center. But this year they've switched it up a bit. Police cadets trained with the K-9s from the New Bremen K-9 unit.
They worked on several training techniques with the arm sleeve. They also worked on obedience training and other k-9 training. During the rest of the training, the cadets went through arrest scenarios. The academy is happy to partner up with the New Bremen K-9 unit because it better prepares the students.
"Cadets really need to be exposed to canine officers so they know what to do if a canine shows up on the scene," said Mark Ernst, Wright State Lake Police Academy commander.
"This way they have an idea when they come out into law enforcement they kind of have an idea of what we do," said Justin Bruns, New Bremen patrolman.
The cadets will continue training this week at the shooting center.