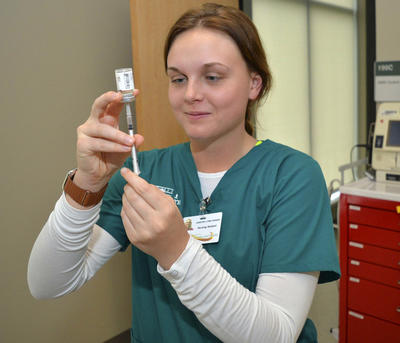 Excerpt
Wright State University's nursing college has been ranked one of the state's best.
The university's College of Nursing and Health was ranked No. 3 in Ohio this year, according to Nursing Process, a website that is often used to as a guide for nursing and health care education. The Ohio State University took first place, and the University of Cincinnati ranked second.
Nursing schools across Ohio that offer baccalaureate and graduate-level nursing programs that have been both approved by the state Board of Nursing and accredited through one of two national agencies were included.
The list was determined by the college's cost, reputation, academic quality and passing rates for the nursing licensure exam.
Wright State's current passage rate on the National Council Licensure Examination licensure exam is above 97%, according to a university news release, compared with the 87% state average.
Nursing is taught at both the Dayton and Lake campuses. It is one of the three most popular programs at Lake Campus. Enrollment has increased every year since its inception in 2015, said Jill Puthoff, assistant director of student services.
She said the program's popularity is due to a number of factors.
"Students are able to save money by commuting to campus. The Lake Campus offers scholarship opportunities, small class sizes and an affordable tuition rate," she added.
In 2019, the first cohort graduated 14 students, and all graduates have received jobs in the nursing field, she said. That number is expected to grow from 22 potential graduates in 2020 to 26 in 2022.
Over the years, the program has grown from operating in a classroom converted into a three-bedroom simulation lab to a new simulation lab opened last year that contains nine beds, mannequins and a control room operated with a computer and simulation technology, program director Lynn Franck said.
High-quality faculty, support from the community and students who are dedicated and driven to succeed make the program one of the best, Franck added.
View original post at www.dailystandard.com. 
Written by Tom Stankard/The Daily Standard
Photo by Dan Melograna/The Daily Standard
Photo Caption: Wright State University-Lake Campus nursing student Kirsten Lynn Homan carefully fills a needle as she practices giving a shot Friday during labs at the school.