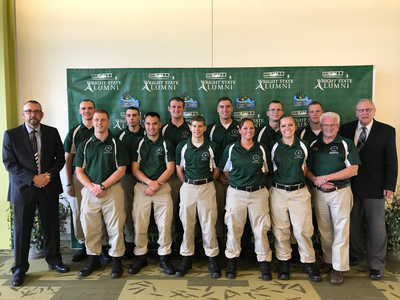 CELINA, OH - On Thursday, May 3, 2018, eleven cadets graduated from the Grand Lake Law Enforcement Academy (GLLEA) at Wright State University – Lake Campus. The cadets endured an intense program that began in August of 2017. The cadets have been selected to take the Ohio Peace Officer Training Commission Test. Successful completion allows the student to become a law enforcement officer in any jurisdiction in Ohio. All cadets also have the option of continuing to study to earn an associate's degree and a bachelor's degree at the Lake Campus.
The ceremony began with welcoming remarks from Lake Campus Dean and Chief Administrative Officer Jay Albayyari and Director of Student Affairs Sandi Holdheide. John Lenhart, Shelby County Sherriff and Mark Ernst, Commander; also addressed the cadets at the ceremony.  A presentation of certificates recognized each individual cadet, following a showcase of photos and videos from the training exercises. The ceremony concluded with a brief reception for cadets and their family members and friends, as well as many of the thirty-two GLLEA instructors in attendance.
Photo Identification
The eleven graduates of the 2018 Grand Lake Law Enforcement Academy are shown.
Front row, from left: GLLEA Commander Mark Ernst, Jared Knous, Josh Spicer, Tanner Hindall, Sarah Wise, Mariah Wellman, and GLLEA Instructor Kip Wright.
Back row, from left: Wesley Roby, Adam Baker, Robert Boyd, Scott Buschur, Charlie Eberle, Alex Schoen and Shelby County Sheriff John Lenhart.