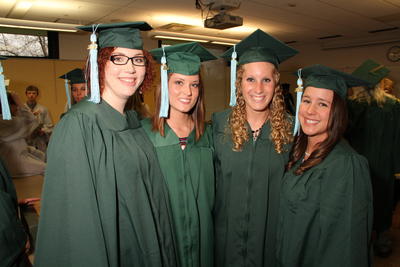 CELINA, OH – Wright State University – Lake Campus held its 42nd Annual Commencement ceremony on Friday evening, May 2, 2014. Degrees conferred upon the 154 members of the Class of 2014 included 62 associate degrees, 79 bachelor's degrees, and 13 master's degrees. Dr. David R. Hopkins, President of Wright State University, provided the commencement address. 

Nearly 60 of the graduating students participated in the ceremony, where graduates Katherine A. Gengler, Coldwater and John A. Will, Celina, were the evening's speakers. Katherine earned an Associate of Applied Business in Graphic Design and Visual Media with highest honors. John earned a Bachelor's of Science in Mechanical Engineering, graduating Summa Cum Laude from the inaugural class of this new Lake Campus program. 

"I know that after today things might seem harder, but remember you are just getting started," Katherine said, "The knowledge that we have learned from the Lake Campus is our base for our future, what we have learned will help us to be greater, to achieve more." 

In his speech John reminded the graduates that homework and exams may end after graduation but you will only move onto different kinds of tests in life. "Although we may not have a paper test with true and false, multiple choice, computations or essay questions, we will still have tests to take and prepare for...Success is obtained when you pick yourself back up and keep preparing for the next test. No one is a failure until they give up. " 

Dr. Bonnie Mathies, Lake Campus Dean, presided over the ceremony. Dylan Correll, representing the Lake Campus Alumni Network, also provided remarks for graduates and guests. Dr. Dane Daniel, Associate Professor of History, and Lake Campus alumnus Samuel Gudorf provided music for the evening, and the Mercer County Firefighters Honor Guard presented the colors for the event.