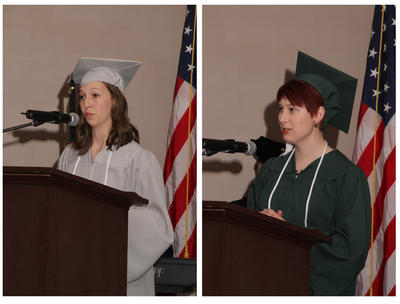 CELINA, OH – Wright State University – Lake Campus held its 45th Annual Commencement ceremony on Friday evening, April 28, 2017. Degrees conferred upon the 162 members of the Class of 2017 included 68 associate degrees and 94 bachelor's degrees. Lake Campus Dean & Chief Administrative Officer Jay Albayyari presided over the ceremony and Kip Wright, Past President of the Lake Campus Alumni Association provided a commencement address.

Nearly 60 of the graduating students participated in the ceremony, where graduate Andrea Barga, Versailles, and Callie Reymann, Marysville, were the evening's speakers. Barga earned an associate of Applied Business in Applied Business Technologies with highest honors while Reymann earned a Bachelor of Arts in English, Summa Cum Laude.

"As we leave the Lake Campus we should never forget the importance of this journey, which has shaped us into the fine individuals you see today," Barga said, "Now is the time to create our own destination and trail. We must listen to ourselves and figure out what it is we are searching for and find it. This is something no one can do for us, this is our own personalized atlas that is waiting for us to start exploring."
In Reymann's speech she reminisced about all of the support she received while being a student at the Lake Campus. Reymann said, "I could not have asked for a better support system during my college experience. When I was confused and struggling, they offered advice. When I was successful and excited, they offered their congratulations. When I was frustrated and upset, they offered a listening ear." Reymann continued, "My professors, my advisors, my boss, and my coworkers have all been there for me in my times of need. Every one of you has been an important part of my journey to this moment tonight."
Nick Warrington, Assistant Director of Alumni Relations, also provided remarks for graduates and guests. Dr. Dane Daniel, Pianist and Associate Professor of History, and Amber Daniel, co-directed the Lake Campus Glee Club in providing music for the evening, and the Mercer County Firefighters Honor Guard presented the colors for the event.

Highlights of the 2017 Graduating Class of Wright State University – Lake Campus
• 68 associate degrees candidates
• 94 bachelor's degree candidates
• The youngest graduate is 19 and the eldest graduate is 61
• The graduating class consists of 93 females and 69 males
• Two students are the first to earn a Bachelor's of Technical & Applied Studies with a concentration in food systems management
PHOTO IDENTIFICATION: Lake Campus Graduates Andrea Barga, left, and Callie Reymann, right, address their fellow graduate in their speeches at the 2017 Lake Campus Commencement Ceremony.