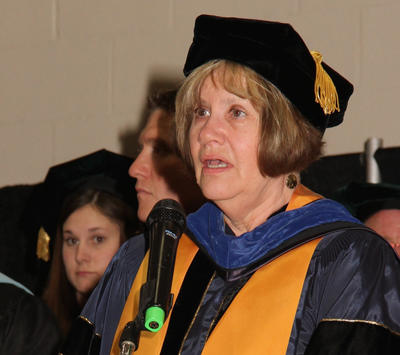 CELINA, OH – Wright State University – Lake Campus held its 43rd Annual Commencement ceremony on Friday evening, May 1, 2015. Degrees conferred upon the 174 members of the Class of 2015 included 73 associate degrees, 90 bachelor's degrees, and 11 master's degrees. Dr. S. Narayanan, Provost of Wright State University, provided the commencement address and Lake Campus Dean Bonnie Mathies presided over the ceremony.
64 of the graduating students participated in the ceremony, where graduates Jennifer Brackman, Coldwater and Heather Hitchcock, Celina, were the evening's speakers. Brackman earned an Associate of Applied Business in Office Information Systems/Applied Business Technologies with highest honors.  Hitchcock earned a Bachelor's of Science in Middle Childhood Education with concentrations in language arts and science, graduating Cum Laude.

"The truth is I love the Lake Campus and this is home to me. This is where my teachers are my neighbors and my classmates are my friends," Brackman said. "Like the Lake Campus has grown these past four years, I have also grown. My time at Wright State, my teachers, and my family and friends have shaped me into the person that I am today. I know many of you. I have had classes with some of you, grew up with others. I know what you are all capable of achieving. You are a talented, intelligent, hardworking group of graduates."
In her speech Hitchcock reminisced how each graduate has a unique story to tell, hers included; one that started by earning an associate's degree, then choosing to stay at home with her children before pursuing her dream of returning for a bachelor's degree in education. Hitchcock said, "Author C.S. Lewis said, 'You are never too old to set another goal or to dream a new dream.' As I look out at the graduating class, I see a diverse group of graduates, all of whom had a dream. You weren't just dreamers though. You were doers. I am proud to be looking out at a group of doers."
Lake Campus Student Government Senator Corey Yoder addressed the graduates about their service to the community and the university. Nick Warrington, representing the Lake Campus Alumni Network, also provided remarks for graduates and guests. Dr. Dane Daniel, Associate Professor of History, and Lake Campus alumnus Samuel Gudorf provided music for the evening, and the Mercer County Firefighters Honor Guard presented the colors for the event.
Click here for more photos from the commencement ceremony.