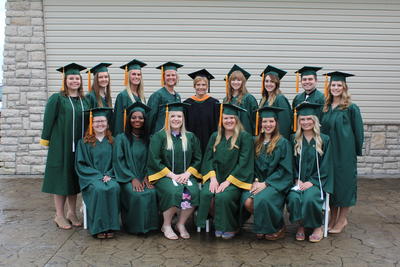 CELINA, OH – Wright State University – Lake Campus held its 47th Annual Commencement Ceremony on Thursday evening, May 2nd, 2019. Degrees conferred upon the 177 members of the Class of 2019 included 138 bachelor's degrees and 39 associate degrees. Dr. Jay Albayyari, Lake Campus Dean & Chief Administrative Officer, presided over the ceremony.
A record number of 75 graduating students participated in the ceremony, where graduate Nathan Stoner of Celina was the evening's student representative. Stoner earned a bachelor's of science degree in middle childhood education, achieved a perfect GPA in his studies, and was nominated by the Lake Campus faculty to share his personal story.
As he reflected on his time at Lake Campus, Stoner said, "I think about how lucky we are to have attended this small school here at the Lake Campus. The faculty and professors were able to have real relationships with the students. Being a smaller campus helps build a community that supports and cares for each other. The Lake Campus was a fine place to help calm the overwhelming fears that we had coming to the college world."
The Class of 2019 included the first group of fourteen students receiving their bachelor of science degree in nursing from the Lake Campus. All fourteen participated in the inaugural Lake Campus nursing convocation, held the night before, as well as tonight's commencement ceremony.  
Over twenty-five Lake Campus faculty members were present at the commencement ceremony to celebrate the accomplishments of the students. Dr. Stephen Jacquemin, Associate Professor, Biology, and President of the Lake Campus Faculty Senate, provided remarks to the graduates on behalf of the faculty. Mitch Eiting, President, Western Ohio Educational Foundation, and member of the Lake Campus Alumni Network, also provided congratulatory comments to the graduates.
The Mercer County Firefighters Honor Guard presented ­the colors for the event, and adjunct faculty Jodi Pierstorff provided sign language interpreting for the deaf and hard-of-hearing. Dr. Dane Daniel, Pianist and Associate Professor of History, and Amber Daniel, adjunct faculty, co-directed the Lake Campus Glee Club, who provided music for the evening. A reception for graduates and guests, sponsored in-part by the Lake Campus Alumni Network, followed the ceremony.
PHOTO IDENTIFICATION: Shown above is the first group of fourteen students receiving their bachelor of science degree in nursing from the Lake Campus. Front row, from left: Katelyn Goettemoeller, St. Henry; Annette Huelskamp, Haiti/Maria Stein; Kayla Heckler, Mendon; Elyssa Sheriff, Celina; Emma Homan, Coldwater and Nicole Stephens, Celina. Second row, from left: Nicole Will, Minster; Erica Sudhoff, Ft. Recovery; Michaela Siefring, St. Henry; Kenisa Post, St. Henry; Lynn Franck, Director of Nursing; Breanna Tuthill, Greenville; Alexandria Downing, Lima; Hayden Abromavich, Mendon and Tiffany Spangler, Oakwood.