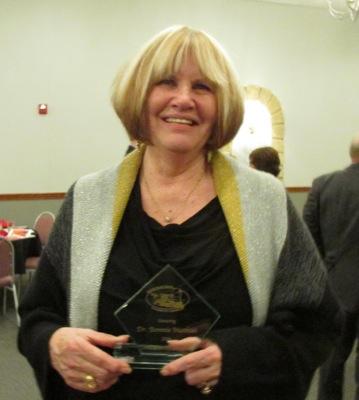 CELINA, OH – Wright State University – Lake Campus Dean Bonnie Mathies received the Achievement Award from the Celina – Mercer County Chamber of Commerce on March 5, 2015.
In the nomination for this award, it was noted that Dean Mathies pioneered the efforts for the Lake Campus to host three "Regional Summit" events, where she provided a channel for the Lake Campus to hear the voice of the community served by Lake Campus. During these gatherings, community members from all areas were invited to campus for thorough discussions on how the campus could improve education and meet the demands of the surrounding communities. From those events, Dean Mathies was able to introduce new Bachelor's Degrees: Mechanical Engineering, Technical & Applied Studies (with concentrations in Agriculture, Commerce, Food Science, and Graphic Design), Business, and - coming this Fall - Nursing. The skills area industries needed from Lake graduates were clear, and hearing about these needs at the Summits motivated Dean Mathies to push forward with the vision to create opportunities which allow many students to obtain jobs right here within the local communities.
Recognizing the importance of community, the Dean has worked closely with law enforcement, corporations, hospitals, Chambers of Commerce, retailers, elected officials, non-profit organizations, economic development offices, and many more. She truly appreciates the support of local residents and groups, and consistently works in strengthening partnerships within the area. In her rare spare time, she can be found with her husband, Bill, on their pontoon on Grand Lake and supporting businesses, fundraisers, and festivals within the community.
This Achievement Award marks the second time in as many years that the Lake Campus was recognized by the Chamber for its efforts in the community. In 2013, the Lake Campus Community Garden received the same honor. For more information regarding the Lake Campus and its commitment to the area it serves, please contact us at 419-586-0300 or follow us on social media >> http://lake.wright.edu/connect/social-media!
*Photo courtesy of The Daily Standard