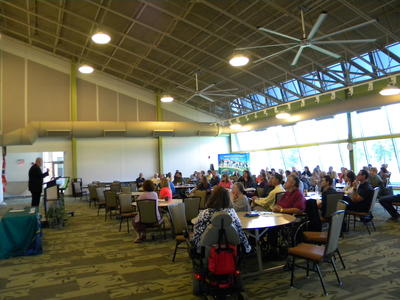 CELINA, OH – Wright State University – Lake Campus held its third annual convocation on Thursday, August 23rd, led by Lake Campus Dean and Chief Administrative Officer Jay Albayyari, Ph.D.
At Convocation Lake Campus faculty and staff came together to reflect on accomplishments from the past academic year and prepare for the upcoming semester. Albayyari gave a presentation focusing on budget, enrollment, development and giving, and capital improvements. Albayyari also discussed strategies to overcome challenges. New hires and appointments were also recognized as well as awards received by faculty and staff during the 2017-18 academic year.
"This is an exciting time for the Lake Campus. Our residents are moving in, our enrollment is projected to be up and we will be breaking ground on another renovation and construction project," Albayyari said.
The $2 million renovation and construction project includes a new Library & Technology Center, Science Lab and Nursing Lab. The project is scheduled to be completed by Fall Semester 2019.
Fall Semester classes start on Monday, August 27 for Wright State University and the Lake Campus is looking forward to another increase in enrollment this year.