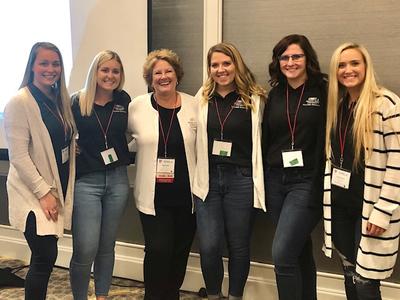 The Ohio Middle Level State Conference was held November 7-8 in Columbus and attracts over 800 middle school educators and those studying to be educators. Five Wright State University - Lake Campus students presented at the conference along with Mindy Fulks, instructor of middle childhood education (MCE).
Lake Campus students Jenna Berry, Leah Homan, Jordan Leffler, Alyssa Cisco, and Heather Heiby presented a session titled "Weird is Cool in Middle School" as a breakout session where knowledge, ideas and experience were shared amongst the attendees. "Weird is Cool" included ten things middle school students wished their teacher knew. Told from the perspective of the middle school student, the list included fun comments like "I did that homework. I'm almost positive I did it." as well as more insightful thoughts from middle schoolers like "Sometimes I just cannot focus."
"I challenged the students to develop an idea for our session, and they surpassed all my expectations. These young ladies designed and delivered a professional, engaging session that was well-received by preservice teachers and veteran teachers alike," said Fulks. 
"The conference was an amazing experience. I gained tips and tricks for teaching middle school students as well as resources to use in my future classroom," said education student Leah Homan of Coldwater.
At the conference Fulks also received the Ohio Middle Level Regional Award. Recipients are recognized for their commitment and contribution to middle level education through involvement in exemplary programs, as well as leadership and research that serves the needs of middle level students.
Professor Fulks is known for her beaming smile, positive attitude and unforgettable laugh. Before joining the Lake Campus in 2014 as an instructor in education, Fulks taught at Piqua City Schools, grades 5-8, for 35 years. 
"Mindy radiates such a positive energy and cares for each and every one of her students on a personal level. I have learned more than I could have ever thought possible from Mindy. She truly makes an impact on every one she encounters and I hope I can make as big of an impact on others as she has on me," said Homan.
"My favorite part of the MCE program is the Field Experiences available to us. These opportunities give us a chance to get in the classroom right away and begin learning from current teachers and building rapport with students. The small class sizes in the MCE program allow us to build relationships with our classmates and professors," added Homan.
The middle childhood education program at the Lake Campus has approximately 60 students studying to be teachers in areas of math, science, language arts and social studies. Upon successful completion of the program and after passing state licensure exams, students are licensed to teach grades 4-9 in the state of Ohio.
"These ladies will all make amazing teachers and there are some very fortunate middle school kids out there who will benefit from their expertise," said Fulks.
PHOTO IDENTIFICATION: Lake Campus education students along with middle childhood education instructor Mindy Fulks are pictured at The Ohio Middle Level State Conference where they presented a session titled "Weird is Cool in Middle School" as a breakout session where knowledge, ideas and experience were shared amongst the attendees. From left: Jenna Berry, Heather Heiby, Mindy Fulks, Leah Homan, Jordan Leffler, and Alyssa Cisco.