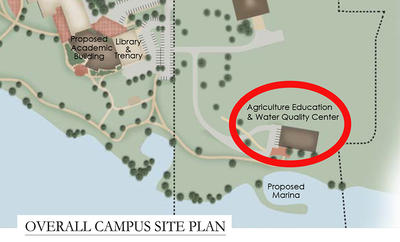 CELINA, OH  – Wright State University (WSU) and the Lake Campus will proceed with the planning and development of an Agriculture and Water Quality Center, a facility that will house laboratories, classrooms and faculty offices dedicated to this purpose.
According to Lake Campus Dean Jay Albayyari, Ph.D., the Center exemplifies the progress that Wright State University has made toward the goals of the "Rise. Shine" resource campaign. As part of Capital Campaign initiatives specific to the Lake Campus and  announced this past Spring, the Center will house the support for key programs that reflect community and regional needs related to the agriculture industry, as well as foster innovation for water quality research and collaborations.
The cost of the project, approximately $3 million, is being funded by $1.5 million allocated from Senator Keith Faber and matched by $1.5 million raised by WSU. The University will move forward with requesting proposals for the facility within the next 6-12 months, with construction to commence upon completion of that process.
"Many thanks to our Senator, WSU President David R. Hopkins, and Lake Campus Agriculture Associate Professor Dr. Greg Homan, as well as the agriculture community, and all who supported the Idea of dedicating funds to our campus to enhance our educational programs in this high-demand field," states Dean Albayyari.
The Center will be situated on the south of the Lake Campus property, adjacent to the shore (Click for high-resolution image of site map). For more information about the Center and the WSU Rise.Shine Campaign, please go to https://lake.wright.edu/connect/rise-shine or contact the Dean's Office at Lake Campus at 419-586-0328.