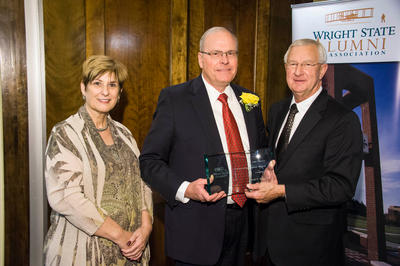 CELINA, OH - Wright State University recognizes its college outstanding alumni each year. Ten honors were awarded on February 28, 2015, during the 16th annual College Outstanding Alumni Awards. These individuals represent some of the best and brightest in their fields and are a tribute to the education they received from Wright State.

Each of the award winners were chosen by their respective college's Dean, based on the following criteria:
Achieving a significant level of accomplishment in their chosen profession
Making a positive impact on a local, state, national, or international level
Demonstrating impressive volunteer service by significant giving of their time and talents through professional and community service organizations seeking the advancement of Wright State
Possessing high standards of integrity and character that positively enhance the prestige of the university
During the 2015 ceremony, each college recognized former students who have gone on to make exceptional contributions to their professional fields while giving back to their communities.

Orval Homan of Minster, Ohio, was honored this year as the Lake Campus recipient. Orval graduated from Marion Local High School in 1967. After being drafted into the US Army that year, he returned home from military service and began taking classes at the Lake Campus, and eventually graduated from the Graduate School of Banking at the, University of Colorado. He began his career in 1970 as a banker and retired as the President and CEO of Minster Bank & Minster Financial Corp., where he currently serves as their Chairman of the Board.

Homan met his wife at the Lake Campus in a geology class.  They have been married for 42 years; they have 6 children and 14 grandchildren.  They enjoy traveling and to this day they still have an interest in rocks and minerals, just as they learned about those in geology class. 
For more information about the Alumni Association at Lake Campus, please visit www.wrightstatealumni/lakecampus for more information.
PHOTO IDENTIFICATION: Orval Homan is shown receiving the 2015 Lake Campus Outstanding Alumni Award.  Shown with him is Becky Cole, Vice President, University Advancement and President of the WSU Foundation and Tom Knapke, Member of the Western Ohio Educational Foundation (WOEF) at the Lake Campus.