Students at Wright State University's Lake Campus took a pivotal step in pursuing their nursing degree at the College of Nursing and Health's fourth annual Induction Ceremony in Dicke Hall. The ceremony is a rite of passage for the 27 sophomores, who have a projected graduation date of May 2022.
"I chose this career because I want to make an impact on others and give back to the community," said Lydia Schmitz, a nursing student from Fort Recovery.
Family and friends were in attendance October 2 to support their students as they recited the Code of Student  Conduct and signed an oath signifying their commitment to their studies and to the nursing profession.
The oath stated, "I, as a student of the Wright State University Lake Campus College of Nursing and Health commit to uphold the standards of the profession by demonstrating academic integrity, personal honor, clinical professionalism throughout my educational endeavors."
"This Code of Conduct is a statement of professional behavior founded on professional values, ideals and obligations in nursing, and an agreement to uphold quality and safety standards in a patient-centered care model," said Lynn M. Franck, M.S., RN, director of the B.S.N. program at Lake Campus. It is based on national standards and an understanding that society has great trust in the nursing profession to provide safe and competent care.
Each student received a lapel pin in the shape of the Nightingale lamp, named for Florence Nightingale. It signifies a beacon of comfort and kindness, gentleness and courage, and an unwavering devotion to duty.
"I always wanted to work in the medical field, but I realized I wanted to be a nurse after my first job at a nursing home taking care of residents," said nursing student Chloe Grube of Celina.
Kristen Keller, a nursing student from Fort Recovery, had a similar sentiment. "I chose the career of nursing because I have always wanted to be able to help others and make a difference while also having an interest in the medical field," she said.
Other students decided to become nurses after family members had positive experiences with their nurses. "After seeing my grandpa interact with his nurse when he had cancer and the relationship they had, I knew that was what I wanted to do," explained student Cassidy Sinning of Van Wert.
"I chose this career because I've seen family members and friends go through different health issues and I've seen the way nurses have impacted their lives," said Hannah Kramer, a nursing student from Osgood.
"I chose this career because I wanted to help individuals in their time of need, noted student Morgan Keuther of Minster. "I have witnessed family members receive the best quality help from their nurses and I have looked up to nurses since then as a result."
Inductees included:
Kylee Black, Coldwater
Ashley Bowen, Willshire
Jada Gaier, Fort Loramie
Chloe Grube, Celina
Elizabeth Heinrichs, Celina
Kirsten Homan, Coldwater
Paige Hoyng, Coldwater
Kristen Keller, Fort Recovery
Hannah Kramer, Osgood
Morgan Kuether, Minster
Tyler Ledyard, Delphos
Corinne McPheron, Lima
Kayla Mueller, Spencerville
Linda Perkins, Anna
Seth Pierron, Maria Stein
Cassie Pohlman, Osgood
Kelsi Poppe, Indian Lake
Mikayla Recker, Findlay
Alexis Richard, Wapakoneta
Natalie Riethman, Van Wert
Lydia Schmitz, Fort Recovery
Brianna Schneider, Coldwater
Abbey Sheeter, Delphos
Michaela Siefring, Burkettsville
Cassidy Sinning, Van Wert
Stephanie Walter, Celina
Courtney Williams, St. Marys
This fall, the 73 students in the Lake campus nursing program are benefiting from expanded space in Andrews Hall, providing more opportunities for hands-on training. The 7,000-square-foot extension includes the Nursing Simulation Learning Resource Center, a science education classroom, science research lab and a 1,660-square-foot open concept library.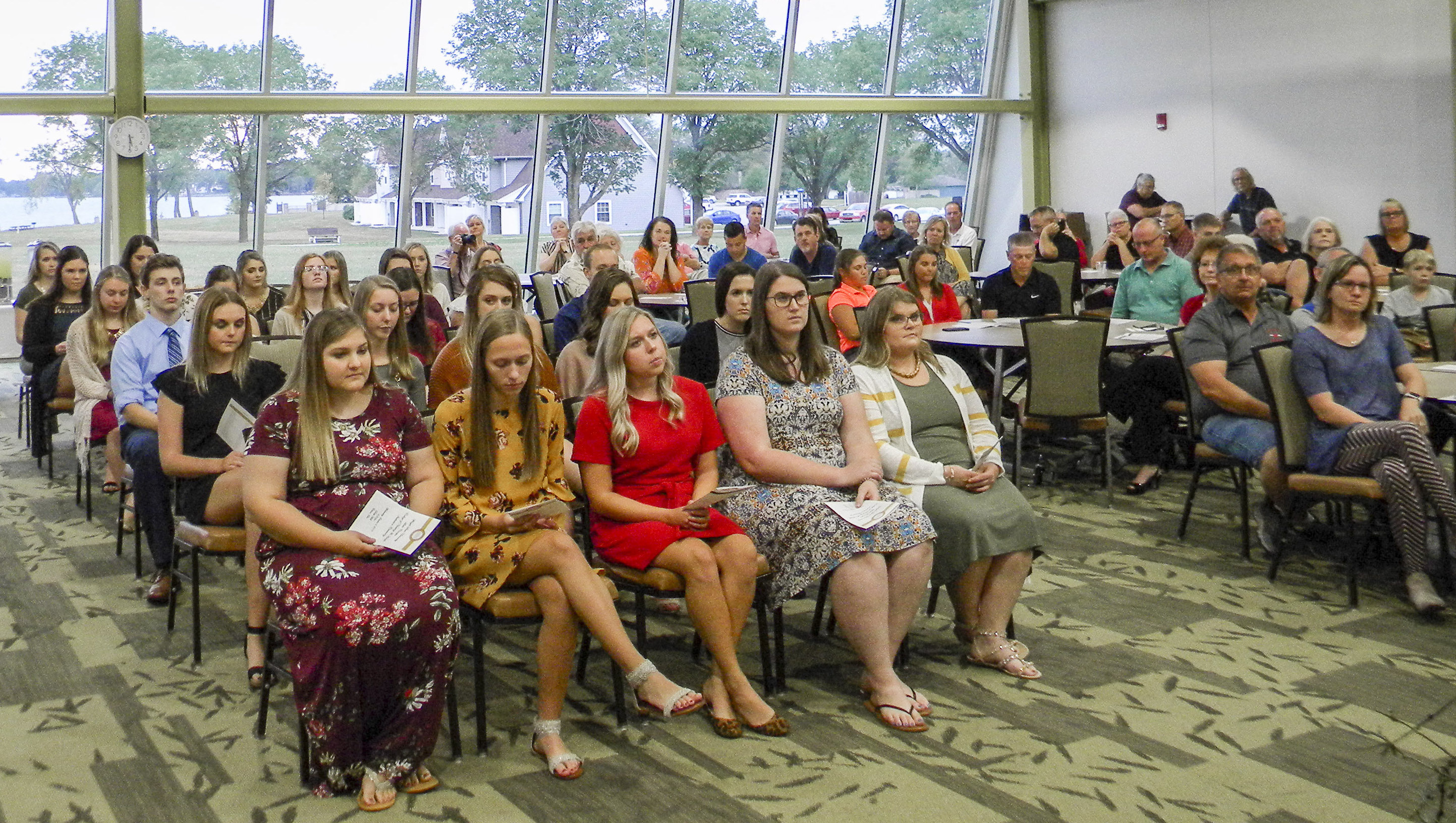 The new nursing simulation lab includes six beds and manikins for students to practice skill development on multiple patients at the same time.
The high-fidelity simulator allows nursing students to participate in simulation scenarios to improve their critical thinking and assessment skills in a safe environment. Students can administer medications, assess heart and lung sounds, insert catheters and provide CPR to the manikin while under the supervision of nursing faculty members.
A grand opening celebration of the extension to Andrews Hall was held on October 10 and attracted top state government officials, as well as Wright State and local business and community leaders.
This past spring the Lake Campus graduated its first nursing cohort of 14 students. They had a pass rate of 93 percent on the NCLEX licensure exam, surpassing the state average.
The Wright State Lake Campus nursing program was created through collaborative efforts of the faculty and staff from both the Dayton and Lake campuses.
"The Lake Campus has understood the need and urgency to have competent caring nurses in the West Central Ohio region," said Franck. "We intend to meet the needs of the community by educating students who will be prepared for a life-long career as a registered nurse."
By Karen Strider-Iiames