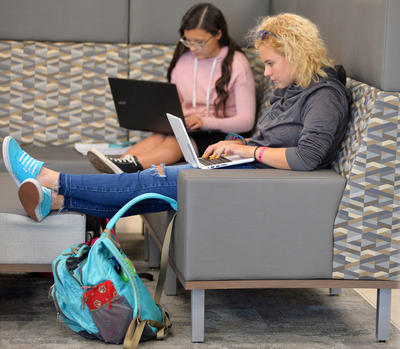 Excerpt
CELINA - A record number of students started classes at Wright State University-Lake Campus as the fall semester began this week.
Enrollment has surpassed 1,600 students for the first time, breaking the previous record of 1,528 students last fall, interim dean Dane Krane told the newspaper. Wright State's total enrollment from both campuses this fall is 15,558 students, according to university information.
"It's always a thrill to see students come back to school," he said. "I've been waiting for this and have been loving the chance to get to know some of the students."
The record-setting trend shows that Lake Campus is "the place to be," Krane said.
"Students are excited to be here and want to be able to give back to the community," he added.
WSU's main campus in Dayton and other universities in the area have trended in the opposite direction, Krane noted.
"There's a 14% decrease in enrollment at the main campus, and the average for regional campuses is a 5% decline. We're moving in the other direction and looking at a 6% increase," he said.
For the last couple of years, the elementary education, nursing and mechanical engineering programs have been battling to be most popular, student services director Jill Puthoff said.
"The community will always need health care providers, engineers and educators," Krane added.
The campus has expanded this year by adding a library and technology center, a nursing laboratory and a science education lab inside Andrews Hall, Krane said.
Construction of the $28 million, 7,000-square-foot addition broke ground in October and was funded by numerous local donors and state appropriations, former dean Jay Albayyari has said.
"We are very fortunate to have received donations from local individuals, businesses and organizations to make this project a reality," he has said
Teachers, program directors and administrators collaborated to design the library and technology center to be more than a book warehouse, center director Jamon Flowers said.
"Students want to use the library for more than just that purpose," he said. "They want to come to study and lounge, they want to use technology, they want to get coffee."
Designed to further students' academic pursuits, the open-concept space features lounge areas for group study, a quiet study area, a coffee bar, a circulation desk and an office for Flowers.
Business major Hannah Snyder said she didn't know the library existed at the beginning of the semester and said "this place is amazing."
Down the hall is a science education lab that serves as a classroom and provides flexible space for experiments, development coordinator Gretchen Rentz has said. Next to it, a research laboratory provides faculty and students space to conduct research, she added.
Program director Lynn Franck has said the campus's old facilities did not have enough work beds to accommodate the growing number of nursing students. The new open-concept nursing simulation research center addresses this problem by offering a flexible classroom that can fit six beds equipped with a functioning head wall with low-fidelity mannequins for skill development, Rentz has said.
More labs were added, including two skill labs serving as private rooms for students to demonstrate to faculty their understanding and dexterity. A high-fidelity simulation lab complete with a control room is also included. This space will be used for simulations and include high-fidelity mannequins, patient bed, functional head wall, one-way glass for observation and a control room for computer-simulation technology, Rentz has said.
Franck has said these improvements will help students gain the hands-on education they need in a safe environment.
Krane said he is excited to see the Lake Campus grow and noted campus officials are planning for an advanced manufacturing center that could house its SkillsTrac program teaching students to work in manufacturing and food-processing fields.
PHOTO IDENTIFICATION: Photo by Dan Melograna/The Daily Standard - Sophomore Maddie Yarkosky, right, and freshman Hannah Snyder study on their laptops Thursday in the newly renovated library at the Wright State University-Lake Campus. 
View the original story from The Daily Standard.