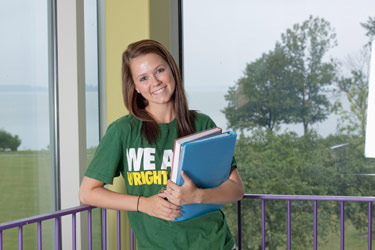 Since its inception the Lake Campus has been the fortunate recipient of alumni, friends and corporate support. Our ability to continue to serve the educational needs of Auglaize, Darke, Mercer and Van Wert counties, as well as the residents of the surrounding areas, is a testament to the generous nature of the residents and businesses who believe in the academic mission of the Lake Campus.
The Western Ohio Educational Foundation (WOEF), thanks the community for its continued support. The WOEF board operates under the auspices of a board of trustees whose members are respected business and community men and women. Members share a common interest in the Lake Campus's academic programs, community service, success, and most importantly, the students. This vision is realized through campus housing and the numerous scholarships made available each year by the WOEF board.
Priority Funds
Advanced Manufacturing Center
WSU is visioning a world class Advanced Manufacturing & Robotics teaching center, developed with local partners to ensure and achieve new economic growth in technology and manufacturing right here in Ohio.
To improve the quality of skilled manufacturing employees and serve the emerging needs of local business and industry partners we are developing an Advanced Robotics Teaching Center of Excellence at the Lake Campus. The Business Enterprise Center (BEC) has teamed with local economic development and other schools to build certified coursework in robotics, process control, mechanical and electrical systems and more. The center's focus can meet the employment/talent gap that exists between engineering and production in many facilities, increasing the growth and quality of our workforce. The campus has experienced strong current mechanical engineering student enrollment, but an expanded value added partnership between industry and the university can increase the pipeline of available talent in multiple skill areas, and allow us more targeted curriculum and forward thinking of future expansion.
Advanced Manufacturing including Automation and Robotics investments in West Central Ohio are leading economic sectors and job growth.

New technology and engineering developments require large flexible industrial spaces to accommodate equipment, learning styles and changing product trends, such as Additive Manufacturing.

Employers require increased skilled certifications, degrees and experience for their operations.

Partnership between private and industry and university resources allows for greater innovation and value added services to improve learning outcomes.
New facility attracts both new emerging students into pipeline while allowing ideal space for retrain.
Agriculture Education & Water Quality Program
The WSU Lake Campus envisions programs that reflect community and regional needs and is focused on technical and applied information related to the agriculture industry.
Agriculture is a key economic engine in Ohio contributing more than $100 billion to Ohio's economy each year.  Mercer County in Western Ohio is the leading county in agriculture in Ohio contributing over $1 billion in annual gross receipts. The strength in agriculture production has resulted in a burgeoning growth of the food manufacturing industry in the region. Located in an area of leadership in agricultural production, the service region of WSU Lake Campus includes counties that excel in dairy, poultry, swine, eggs and crop production. This heavy concentration of agriculture in one region provides an opportunity for various supporting industries ranging from agronomic and livestock processing to marketing and financial management services. These supporting industries require a trained labor force ready to meet the needs of the agriculture industry of tomorrow.
A state-of-the art facilities, equipment, and materials.
Unique instructional activities combining traditional classroom, lab and field experiences in non-traditional ways.
Agriculture programs must combine classroom instruction with real-world perspectives from industry professionals using face-to-face interactions as well as digital technologies. 
Programs will serve technical-oriented individuals who are seeking new careers in agribusiness and the food industry as well as individuals already in these industries that wish to upgrade their skills and knowledge.
Assist in the promotion of youth in agriculture programs such as 4-H and the Future Farmers of America (FFA).
Provide opportunities to collaborate with other institutions and programs.
 
Athletics/Recreation Complex
The WSU Lake Campus envisions an Athletic/Recreation Complex that would foster an environment that is conducive to 1) increased engagement of all students in campus activities 2) advancements in recruiting for all athletic programs 3) a more enjoyable recreation experience offered by a student-run facility.
The addition of an Athletic/Recreation Complex to the Lake Campus would provide a number of opportunities for students to have additional work experiences on campus, by allowing them to staff and run the Recreation aspect of the complex. In turn, it would create a Recreational space that is more conducive and enjoyable for the end user, i.e. the students, faculty and staff. In addition, it will help to further the growth of our Athletic programs, by providing better facilities and recruiting tools for possible incoming student athletes. In addition, it will help to foster an environment on campus where students are able to be more active and engaged in campus life. Through campus engagement there will be an increase in retention of students as well as a continuing trend of recruiting students from farther distances.
A state-of-the art synthetic turf baseball stadium with indoor facilities that can be utilized by the baseball team, as well as the other sports throughout the year, in addition to intramural sports.
Recreational space that can be utilized by athletics but also by the entire campus population.
A recreational space that will be run by students and will provide numerous, on campus, job opportunities for students.
Meeting spaces that will offer athletic teams their own space for team meetings/film/etc., which can also be utilized for academic classes.
Green space that will be operated by athletics as well as intramurals that are open to Faculty/Staff/Students and Alumni.
Baseball stadium will ensure future revenue generation through camps, tournaments, etc. for the University.
 
Lake Campus Academic Building Extension
The Lake Campus envisions a multi-functional area with instructional and support service space..  This space will allow the Lake Campus to achieve the strategic goal of enhancing student access to and successful participation in higher education through quality and innovative instruction and programs.
Along with classrooms, this structure would also house a library learning center, the Business Enterprise Center (BEC), Career Services, a food science lab, a nursing simulation lab and a 100+ seat meeting space. 
Instructional space is acutely needed for academic growth – nursing, agriculture, business, engineering, and required general education courses.
A state-of-the-art library, media center that would provide access to library resources and equipped with the latest technological tools allowing the Lake Campus community to become more technologically savvy and competitive in our increasingly tech-dependent global society.
Space for the BEC to work with employers to identify their training needs.
A location for career planning and development including placement of student interns and coops including resources and an identity to increase placement and the tracking of student success.
A quiet, monitored space available for make-up tests and/or selected online tests.
A large tiered theatre-style meeting room for student/faculty/community presentations on research/academic/community interests.
An appropriately equipped nursing simulation lab to support the Bachelor of Nursing degree and related programs.
Donate TODAY
Gifts may also be mailed to WSU Lake Campus, ATTN: Gretchen Rentz, 7600 Lake Campus Dr., Celina, OH 45822
Contact
For more information about supporting the Lake Campus, please contact Gretchen Rentz at (419) 586-0336.
Gifts may also be mailed to WSU Lake Campus, ATTN: Gretchen Rentz, 7600 Lake Campus Dr., Celina, OH 45822.