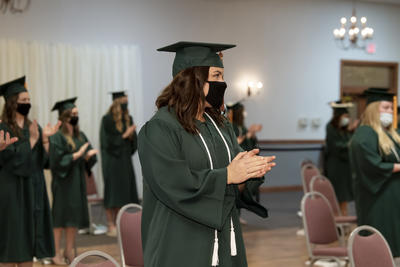 CELINA, OH –Wright State University–Lake Campus awarded 240 degrees at their annual Commencement ceremonies on April 29 and 30, marking the first time the campus has conferred over 200 degrees in a Spring ceremony. The campus held 3 separate ceremonies at Romer's Celina Ballroom to accommodate COVID-19 safety protocols.
Of the 240 graduates, over 100 chose to participate in the in-person ceremonies while others celebrated by watching the ceremonies via livestream. The graduating class consisted of 51 associate degree and 189 bachelor's candidates. The average GPA of this year's graduating class was a 3.36. 
Susan L Edwards, Ph.D., President of Wright State University, provided the commencement address to the graduates, where she congratulated students for their resiliency, tenacity and sheer grit in earning a college degree. Ohio Governor Mike DeWine also provided congratulatory remarks to the graduates via video. Orators for the ceremonies include Dr. Giovanna Follo, Lake Campus Faculty Senate President; Lynn Franck, Nursing Program Director, and Betsy Crites, Teacher Education Program Director. 
Interim Lake Campus Dean and Chief Administrative Officer Dan Krane, Ph.D., presided over the ceremonies and William Montgomery, WSU Board of Trustees member, conferred the degrees.
Carla Hirschfeld, President of the Lake Campus Alumni Network, provided remarks where she congratulated the graduating class and welcomed them to the alumni network, which includes over 100,000 individuals.  
Highlights of the 2021 Graduate Class of Wright State University–Lake Campus
First time in history over 200 degrees were recognized at a Spring ceremony
51 associate degree candidates
189 bachelor's degree candidates
97% of the graduates are from Ohio
Average GPA of the graduating class of 2021 is 3.36
Photos