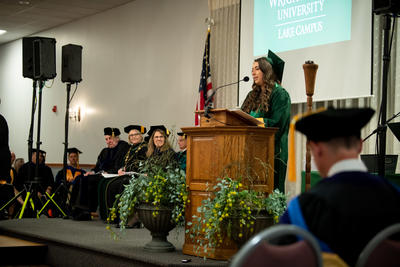 CELINA, OH – Wright State University–Lake Campus held its 50th Annual Commencement Ceremony on Thursday evening, April 28, 2022. Degrees conferred upon the 196 members of the Class of 2022 included 151 bachelor's degrees and 45 associate degrees. Dr. Andrea Faber, Lake Campus Vice Provost & Chief Administrative Officer, presided over the ceremony.
Over 85 graduating students participated in the ceremony, where graduate Hallie Whitten of New Bremen was the evening's student representative. Whitten earned a bachelor's of science degree in crime and justice studies, achieved a perfect GPA in her studies, and was nominated by the Lake Campus faculty to share her personal story.
As she reflected on her time at Lake Campus, Whitten said, "Being at Wright State gave me the opportunity to explore my options while I was still figuring it out. And after 22 years of not knowing what I wanted to do with my life, I feel like I'm exactly where I need to be. But it wasn't without mistakes, failures, and a lot of difficult decisions along the way."
Wright State University President Sue Edwards provided the Commencement Address and Mr. Jared Ebbing, Vice President, Western Ohio Educational Foundation, and Director, Mercer County Economic Development, also provided congratulatory comments to the graduates.
In her address, President Edwards reminded to students to never settle for status quo and to accept opportunities when they present themselves.
"Have courage, embrace change. That is how we grow as individuals. Understand that you alone are responsible for creating your happiness. You have the capacity and the power to choose your path," President Edwards said.  
The Mercer County Firefighters Honor Guard presented ­the colors for the event, and adjunct faculty Jodi Pierstorff provided sign language interpreting for the deaf and hard-of-hearing. Dr. Dane Daniel, Pianist and Associate Professor of History, provided music for the evening.
Highlights of the 2022 Graduate Class of Wright State University–Lake Campus
45 associate degree candidates
151 bachelor's degree candidates
The youngest graduate is 18 and the eldest graduate is 64
PHOTO IDENTIFICATION: Lake Campus graduate Hallie "Lucy" Whitten, of New Bremen, provides remarks at the 2022 Lake Campus Commencement Ceremony held on Thursday, April 28, 2022 at Romer's Catering at Westlake in Celina, OH.