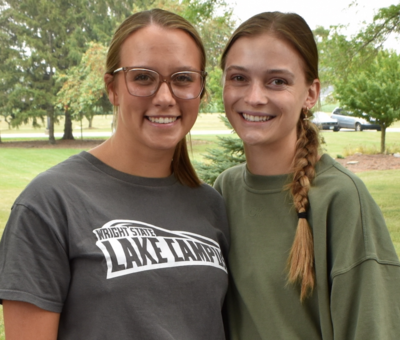 CELINA, OH – Wright State University–Lake Campus students Kelsey Nichols and Olivia McGee will both be graduating this upcoming spring semester and are paving the path for future Lake Campus students who want to pursue a career in medicine.    
Nichols, who graduated from Parkway High School, and McGee, from Ft. Loramie High School, are both on track to earn a bachelor's degree in integrated science studies focusing on the pre-health professional concentration offered at the Lake Campus.
The pre-health professional concentration focuses on the anatomy and physiology of organisms with a special emphasis on preparing students for graduate and professional programs in health care fields.
They both have aspiring goals to attend medical school and have teamed up to try to help other Lake Campus students in the same situation by creating a student organization.
"I know that the road to medical school can be very daunting, especially when you are facing it alone. I want students who attend the Lake Campus to know that they are not alone in this process, that there are other students here that are going through the same process that they are," said Nichols.
Jayna Vossler is the rural health manager in the Wright Rural Health Medical Scholars (WRMS) program, is based out of the Lake Campus, and is helping oversee the pre-med student organization.
"Having a pre-med Student organization at the Lake Campus will offer valuable benefits, including networking opportunities, academic support, and access to information and resources related to medical school admissions. Additionally, it provides a platform for personal growth, leadership development, and community outreach. Overall, the pre-med student organization will play a crucial role in preparing students at the Lake Campus for successful careers in the healthcare field," said Vossler.
Both girls participated in Mercer Health's Summer Internship & Exploration Program, a program that was available to college students who are considering application to medical school.
"I was able to gain a perspective of not only what it takes to be in healthcare but also being able to see the reward of making others feel better and showing genuine care has emphasized why I want to go into the medical field," said McGee.
Years down the road, both also see themselves working in the Lake Campus area.
Nichols sees herself working as a family physician in Mercer County, and McGee has a goal to open a neurological clinic in the local area that offers therapies to help those diagnosed with autism, ADHD, and depression.
Students who attend the Lake Campus benefit from a unique combination of small classes, an affordable tuition rate, and in-demand degrees, which can set students up for financial success.
Nichols has enjoyed a one-on-one relationship she has been able to build with one of her professors.
"I have had Dr. Marshall for at least one class each year I have been at the Lake Campus. Last year, I started to work in her lab to help her with her research. I have been very grateful for her as she allowed me to get the research experience that I need going into medical school," said Nichols. "She is also very open and always willing to help with anything that I may need, from schoolwork to letters of recommendation."
McGee said she chose the Lake Campus because of the opportunity to earn a bachelor's degree with a reasonable tuition rate.
"I can commute while living at home to save money for graduate school, and the smaller classes help establish genuine relationships with professors," said McGee.
Photo Identification: Kelsey Nichols, left, and Olivia McGee, Lake Campus students who are majoring in integrated science studies, are shown participating in the Lake Lawn Party, where they were gathering interest about forming a Pre-Med Student Organization.