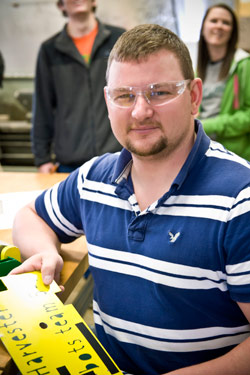 The Lake Campus Veterans Affairs (VA) Office, 217 Dwyer Hall, helps students apply for the various GI Bills, maintain eligibility, and troubleshoot payment and other issues. The Certifying Official submits enrollment and tuition information to the VA Regional Processing Office and/or to the student's Vocational Rehabilitation counselor.
The VA Office can also serve as a central resource regarding other programs and resources available to veterans and military-connected students, both on campus and in the surrounding community.
Funding College With Veterans Education Benefits
Resources & Forms
The Veterans Enrollment Report is completed every semester and returned to the VA Office at the Lake Campus.
Contact
BJ Hobler
Veterans Affairs 
419-586-0324
bj.hobler@wright.edu
Before scheduling an appointment with the Lake Campus Office of Veterans Affairs, it is recommended you:
are an admitted Wright State University student
have registered for classes
and have applied for VA educational benefits
Once you have met these requirements, please schedule an appointment with us. You can call us at 419-586-0324 to make an appointment.