CELEBRATE BECOMING AN OFFICIAL LAKER
Join us at one of our campuses to celebrate being an #OfficiaLaker! While you are at Signing Day you can:
Signing DAY!
Tuesday, May 7, 2019
6:00-8:00pm
Agenda
A brief presentation will be given at 6:30 for those in attendance at that time!
A campus tour will be availalbe around 7:20pm. The tour will conclude with an option housing tour.
Visit our tables for more information about the following areas: 
Academic Advising
Admission
Financial Aid
Housing
Veteran Affairs
Computer Log In Assistance
Take an official Signing Day Photo
And more!
CAN'T MAKE IT TO ONE OF OUR EVENTS?
You can celebrate at home with our #OfficialLaker signing certificate and share your news.
Tell your friends and family you are now an #OfficialLaker! Snag some of these official Signing Day images you can share online.
Facebook | Twitter | Instagram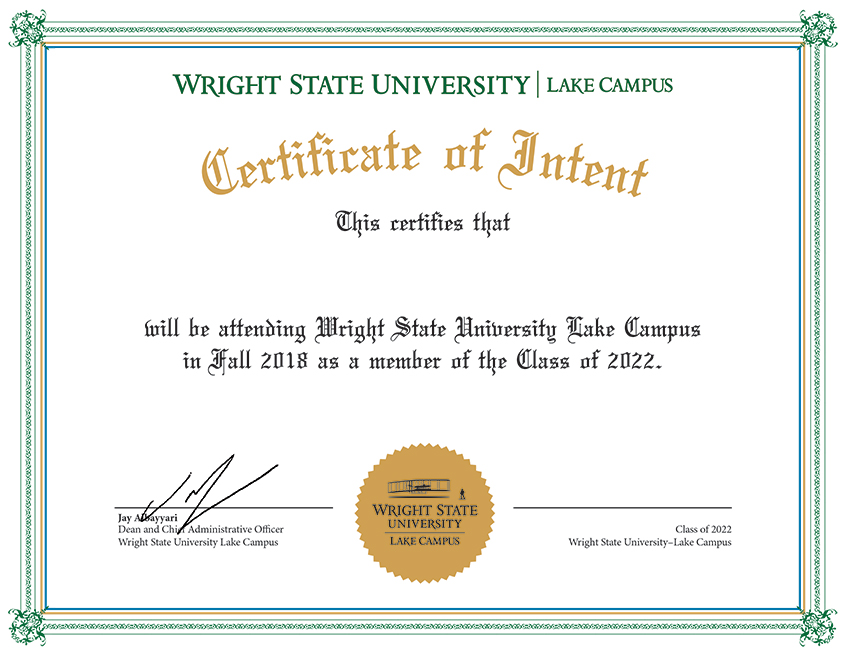 Download your official Signing Day certificate (.pdf)
NEXT STEPS
Here are a few steps you can take that will help you be ready for classes in the Fall. To complete the following steps, re-visit your admissions portal and log-in using the email and password you created when you applied. In the Next Steps section complete the following:
Get your Wright State computer account information by clicking on "Access Your Student Portal" in the Next Steps Box
Apply for housing
Register for Orientation
HAVE QUESTIONS? WE ARE HERE TO HELP!
Email us at discoverlakecampus@wright.edu and we will be happy to answer your questions.
Call us at (419) 586-0300 or 1-800-237-1477. We are ready to answer any question you have (and if we can't answer it, we will find the answer for you).

TRANSFER, ADULT & RETURNING STUDENTS
Now that you are admitted, your next step is to register for classes, contact the Student Services Office at (419) 586-0300 to schedule a meeting with your academic advisor and receive assistance with class planning and scheduling.