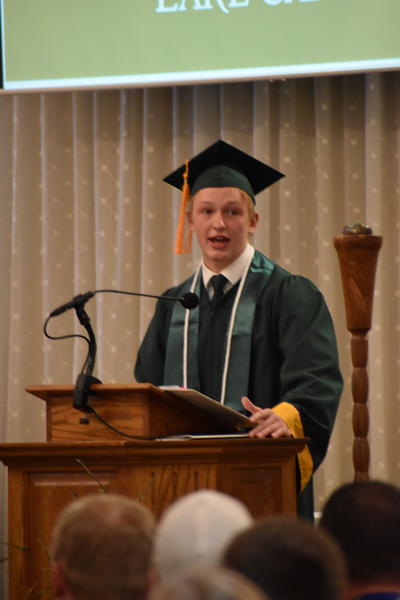 CELINA, OH – Wright State University–Lake Campus held its 51st Annual Commencement Ceremony on Thursday evening, April 27, 2023. Degrees conferred upon the 228 members of the Class of 2023 included 175 bachelor's degrees and 53 associate degrees. Dr. Andrea Faber, Lake Campus Vice Provost & Chief Administrative Officer, presided over the ceremony.
Over 100 graduating students participated in the ceremony, where graduate Devin Siefring of St. Henry was the evening's student representative. Siefring earned a bachelor's of science degree in nursing, achieved a perfect GPA in his studies, and was nominated by the Lake Campus faculty to share his personal story.
As he reflected on his time at Lake Campus, Siefring said, "Today is a huge step in our lives that should not be taken lightly. We have prepared ourselves to make an impact in our communities and the world.
"There is no instruction manual on how to overcome your biggest challenges. For this reason, I suggest you look at all the obstacles you have already overcome. Look to these memories as inspiration, a reminder of what you are able to achieve, a model for perseverance, those are the directions."
Wright State University President Sue Edwards provided the Commencement Address.
In her address, President Edwards reminded the students that they are moving forward and their future has endless possibilities and they are in control of their destiny and happiness.  
"Today, set your sights on the future. Visualize where you are going and make a plan for turning that into reality and show the world what Wright State Lakers are truly made of," President Edwards said.
The Mercer County Firefighters Honor Guard presented ­the colors for the event. Dr. Dane Daniel, Pianist and Associate Professor of History and Sam Gudorf, Lake Campus Alumnus, provided music for the evening.
Highlights of the 2023 Graduate Class of Wright State University–Lake Campus
53 associate degree candidates
175 bachelor's degree candidates
The youngest graduate is 18 and the eldest graduate is 51
Over 86% of the class is from Mercer, Auglaize, Dark, Shelby or Van Wert county
PHOTO IDENTIFICATION: Lake Campus graduate Devin Siefring, of St. Henry, provides remarks at the Lake Campus Commencement Ceremony held on Thursday, April 27, 2023 at Romer's Catering at Westlake in Celina, OH.