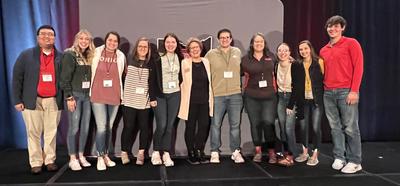 Celina, OH – Lake Campus middle childhood education students attended the Ohio Middle Level State Conference in Columbus in November thanks to the generosity of the Mercer County Civic Foundation. The foundation funded the registration and hotel cost for ten Lake Campus students to attend.
By attending this conference, these preservice teachers benefited in many specific ways: networking with 900 middle level educators who love and value middle school kids, access to dynamic keynote speakers, over 90 break-out sessions whose topics included all content areas, intrinsic motivation, challenges in teacher-student relationships, blended learning, student mental health, digital leadership, literacy, Google Tools and more. The students were able to engage with panels of administrators, veteran teachers, and instructional coaches from all over Ohio.
"Our future rockstar teachers can now add a unique experience to their resumes, and better serve future students, families and the schools they will work in thanks to the generosity of the Mercer County Civic Foundation," said Mindy Fulks, lecturer in the education program at Lake Campus. 
Fulks said that it is rare to hear anyone say they LOVED middle school. It's like the Bermuda Triangle of education, a black hole between elementary and high school. It is an awkward, curious stage, a time of constant changes, social shakeups, swinging emotions, and intense pressure. Fortunately for our Lake Campus area, outstanding and energetic group of individuals are choosing to become teachers and mentor this special age group.
Grace McEldowney, a senior in the middle childhood education program, attended the conference.
"I loved talking to other educators and administrators outside the school setting. I was able to learn so many new ideas and techniques to bring back in my classroom for student teaching. I added new tools to my teaching toolbox and gained skills and knowledge that I know will benefit me when I have my own classroom. I would highly recommend the conference to all future educators and those who are in the field currently."
PHOTO IDENTIFICATION: Ten students from the Lake Campus attended the Ohio Middle Level State Conference in November 2022. From left, Trent Buehler, Haley Smith, Grace Swander, Kylie Lyons, Bailey Exman, Mindy Fulks, Luke Cantrell, Conner Reed, Jessica Seger, Grace McEldowney and Derek Wilker.