The Lake Campus Housing Villas sit just west of campus, and are viewable from James F. Dicke Hall. Knapke Villa, East Villa, and West Villa consist of townhouse-style apartments that have a beautiful view of Grand Lake St. Marys. Each apartment has four or five bedrooms, with the option of having a private or a shared bedroom. Students are encouraged to request roommates if they are living in a shared bedroom.
General Information
General Information on Lake Housing Amenities
Lake front property
Town house-style apartments

Four Bedroom Plan

The four bedroom plan has one single bedroom, one double bedroom and a bathroom downstairs and one single bedroom, one double bedroom and a bathroom upstairs. This allows for up to six students to live in each four bedroom apartment.

Five Bedroom Plan

The five bedroom plan has one single bedroom and a bathroom downstairs and four single bedrooms and two bathrooms upstairs. This allows for five students to live in each five bedroom apartment. The single bedroom downstairs may be used an expanded double if the need arises. 

Housing capacity, starting Fall 2017, is 96 students
One vehicle per resident is permitted 
Cost of housing is billed using the same system as the student's WSU tuition bill (students may use financial aid)
Apartments are fully furnished

Full Kitchen- Refrigerator, Electric Range, Microwave, Dish Washer, Double Bowl Sink, Garbage Disposal
Living Room- Couch, 2 Arm Chairs, Television Stand, End Table 
Dining Room- Dining Table, 4 Chairs, 3 Breakfast Bar Stools
Single Bedroom- Twin XL Bed, Desk, Desk Chair, Two Drawer Dresser
Double Bedroom- 2 Twin XL Beds, 2 Desks, 2 Desk Chairs, 2 Two Drawer Dressers
Interested in learning more? 
4 Bedroom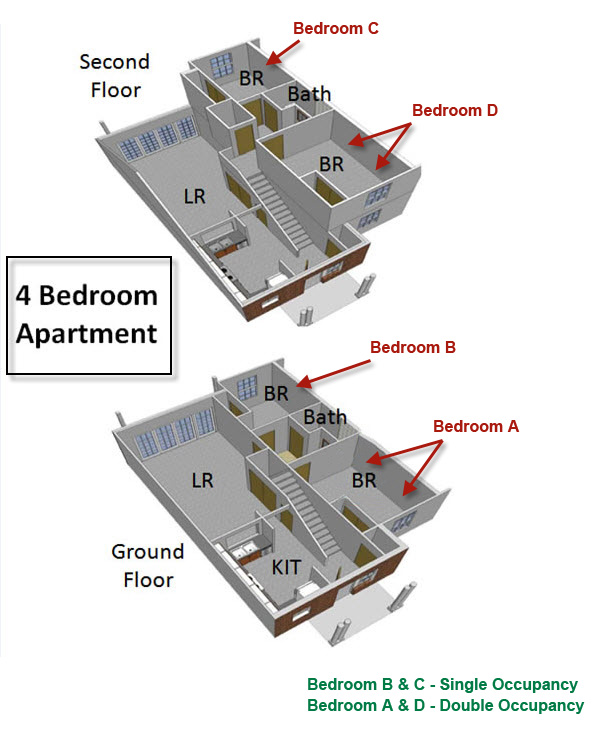 5 Bedroom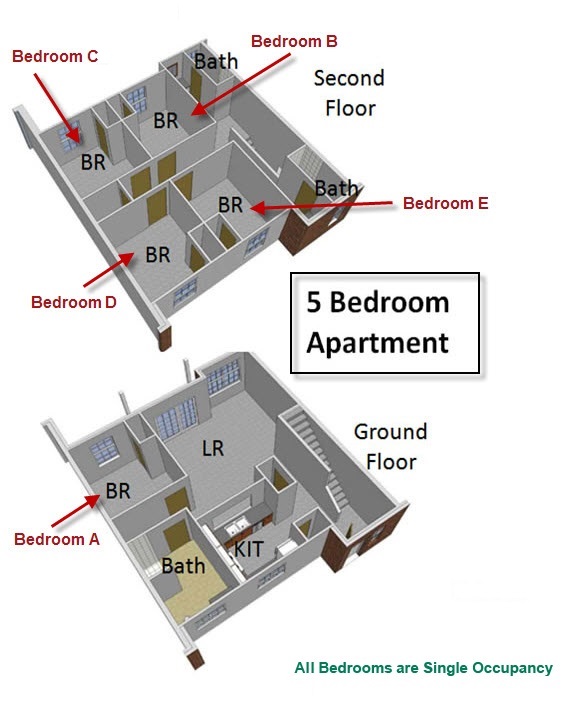 Cost
2017-2018 Lake Campus Housing—Semester/Academic Year Rates
* 2 Semester - Academic Year Agreement (Summer Optional)
Campus Community
Room Type
Cost
Semester
Communications
Cost
Total Semester Cost
Cost for Entire Academic
Year Agreement
(2 Semesters)
Lake Campus
Apartments
Single Occupancy
Bedroom 
$3,000
$200
$3,200.00
$6,400.00
 
Double Occupancy
Bedroom 
$2,100
$200
$2,300.00
$4,600.00 
2018-2019 Lake Campus Housing—Semester/Academic Year Rates
* 2 Semester - Academic Year Agreement (Summer Optional)
Campus Community
Room Type
Cost
Semester
Communications
Cost
Total Semester Cost
Cost for Entire Academic
Year Agreement
(2 Semesters)
Lake Campus
Apartments
Single Occupancy
Bedroom 
$3,150
$200
$3,350.00
$6,700.00
 
Double Occupancy
Bedroom 
$2,205
$200
$2,405.00
$4,810.00 
Interested in learning more? 
Apply
Have more questions before you apply? Let us know!
The application for Fall 2018 Housing at the Lake Campus IS AVAILABLE NOW!! 
Applications for Fall 2018 are being accepted. Interested students who have been admitted to WSU can apply online. 
To complete an application, please use the button located at the top of the page.
To Submit Your Housing Application/Contract, follow these steps:
Log into WINGS Express using your "UID" and PIN
Select the "Student and Financial Aid" tab
Select "Housing Services"
Select "Continue to LAKE Housing Account". You are now on the Lake Campus Housing Account Landing Page. If applying for housing, click the Apply Now button.
Roommate Requests
If you have roommate request(s), you will need to have their name and UID (University ID) to enter on the application preferences.

All roommate requests must be requested by all applicants involved in the request to be considered for assignments together.
Logging In
If you have forgotten your UID and PIN, but know your "w" login, you may go to WINGS and click on the WINGS Express button in the top right corner.
If you need assistance logging in, contact the Help Desk at (937) 775-4827
Assignments will be made according to the time and date of application for students who have submitted a complete application with pre-payment.  Roommate requests will be honored first.  A waiting list will be maintained after assignments have been completed.  The housing agreement features a nine month term (August through April) excluding winter break (with an option for summer).
Moving In
Move-In Day activities will be announced soon - keep checking in late Spring/early Summer for more details!
What do you need to know about campus housing before you live on campus?
Here you will find information you need for a successful transition to Wright State University Lake Campus Housing. Moving in is one of the most exciting parts about being a college student! You make new friends, get involved in activities for First Weekend, explore the amenities Wright State has to offer, and begin to gain independence. At Wright State University, we believe living on campus should be a positive experience that is full of life lessons. Talking to your roommate before-hand and knowing the procedures for move in day are essential parts of making your housing experience rewarding and enjoyable. We look forward to your arrival!
What to Bring
Items You May Want to Bring to Campus:
Mini Fridge/Freezer- No larger than 3.3 cubic feet
Mattress-pad or mattress-cover, pillows, and comforter/bedspread 
Extra-long twin size sheets (mattress size 36"x80")
Seasonal clothing
Hamper
Laundry soap, softener & dryer sheets
Alarm clock
Wastebasket- for bed and bathroom
Desk lamp
Television- cable in bedrooms and living room
Computer- wireless throughout the apartment and wired in the bedrooms
Touch-tone phone- phone jack in common space
Rugs- bedrooms are carpeted
Bath mat
Towels
Toiletries (shampoo, soap, razor, toilet paper, etc.)
Umbrella
Cleaning supplies including a vacuum
Cooking utensils/Can opener
Plates, cups, silverware
Pots and Pans
Dish detergent (sink & machine)
Lock Box
Lawn Chair/Outdoor furniture
Command Strip type décor hangers
What Not to Bring
Item that ARE NOT permitted in the Lake Campus Housing Villas
Pets (the only pets allowed are fish) - This includes all pet related paraphernalia! 
Firearms, weapons (knives, paintball guns, bows, sword, etc.), and things that look like weapons (cap guns, etc.)
Fireworks, incense, candles, or any other open-flame device
Charcoal and gas grills
Double stick tape, screws, molly bolts, planter anchors, big nails, spikes, and finishing nails cannot be used to hang things on the walls! (Small tacks, staples, picture hangers are okay)
Replacement light bulbs. Your community office provides 60-watt bulbs (the alternative that is less likely to cause a fire) free of charge. Do not change the light bulbs in your apartment.
Appliances which are not allowed- Deep Fryer, Fondue Pot, Hot Plate, NuWave Induction Oven, Pizza Oven, Toaster Oven, and any other devices with an exposed heating element.
"Spider" style floor lamps that have plastic shades around each of the light bulbs.
Network equipment (wireless access points, routers and hubs)

WHEN IN DOUBT, LEAVE IT OUT! If you are unsure if you should bring certain items, the best bet is to leave it at home or ask the Community Coordinator if it allowed!
What Needs to be Done This Summer
Do not just complete your application and forget about school until August 29, 2016 (First Day of Class)
Apply for Campus Housing, if you have not already.
Check your insurance coverage for students at college: Health Insurance & Property Insurance (Renters)
Complete the forms mailed to each housing student
Health History
Consent to Treat
General Information (half sheet)
Resident Parking Information
Clean up your social media accounts
Watch for assignment information in July
Contact your roommates
Review the information in the Forms & Policies Tab (to the left of this tab)
Knowing Who You Live With
Pre-Meeting Your Roommates
We strongly suggest you contact your roommate(s) before you arrive at Wright State Lake Campus. There are many things to discuss and coordinate, and living with a new person or group of people in a new place can present challenges. You and your roommates may become friends right away, or it may take some time. Getting a head start on that relationship can make things easier in late August.
Conversation Starters
The following are a few conversation starters that are helpful when you contact your new roommate(s):
About You
Hometown and high school
Family life
Friends at home
Wright State Major
Morning person or night owl
Messy or neat
Under or over
Music preferences
Movie and TV preferences
Willingness to loan belongings 
Feelings about overnight guests
Particular habits
Working during college
Good mood v. Bad mood (what to know)
What it's like when I'm feeling down
What is annoying
What is comical
Relaxation techniques
Stress management techniques
Once You've Had Time to Chat
"An important similarity between us may be... "
"An Important difference between us may be..."
"I think we might have to compromise on..."
"I look forward to learning more about..."
"We should talk more about..."
Roommates will not agree on everything, and that is okay. Having a basic understanding of each other's needs helps build a foundation for a good year together. In fact, the university encourages residents to complete a roommate agreement within the first few days of moving on campus in an effort to establish a mutual consideration of roommate preferences.
The Resident Assistants (RAs) on campus may also help you and your roommates with the transition to university life. RAs are students who live with you in the apartments at WSU Lake Campus and are trained to assist roommates with concerns or conflicts.
Despite all this preparation, keep in mind that sometimes room or roommate assignments change from your initial assignment through Move-in Weekend because of cancelations and moves to accommodate the needs of residents. We encourage you to check the site throughout the summer for any changes.
Knowing Where You Live
Housing Addresses 
West Villa
WSU- Lake Campus Housing
(YOUR NAME HERE)
6764 Dibble Road (APARTMENT #)
Celina Ohio, 45822
Knapke Villa
WSU- Lake Campus Housing
(YOUR NAME HERE)
6766 Dibble Road (APARTMENT #)
Celina Ohio, 45822
East Villa
WSU- Lake Campus Housing
(YOUR NAME HERE)
6768 Dibble Road (APARTMENT #)
Celina Ohio, 45822
Forms & Policies
University and Housing Policies for Lake Campus
Wright State University Lake Campus, through the Office of Community Standards and Student Conduct, have instituted policies in order to promote a safe community conducive to academic success.
All students at Wright State University must abide by the Student Code of Conduct; in addition, there are policies in the Code that are specific to University Housing. The Residence Services Sourcebook is specific only to residential students.
Please take the time to review these policies so that you will know the behavior that is expected from students living in campus housing at Wright State University-Lake Campus.
Policies and Procedures
Apartment Unit Standards
What are Unit Standards?
Unit Standards are negotiated in an apartment unit between roommates. Unit Standards are the agreements made by the residents in a given apartment unit concerning how we will relate to each other and treat each other. Unit Standards are a process by which we begin forming a healthy community through dialogue, compromise, and commitment. Unit Standards evolve and therefore the process is never finished. Because Unit Standards evolve, they should not be thought of as a task to be completed but as a means by which interactions continuously occur.
An important aspect of Unit Standards is discussing and deciding how we will hold ourselves accountable for agreements and expectations. Discussing the issue of responsibility and accountability of each roommate to every other roommate can be difficult. This difficulty comes because many of us believe that someone else (i.e., a housing assistant, University Police, Community Coordinator) is responsible for "making sure that I get exactly what I want." Another way to think of this is that many of us do not want to stand up for ourselves. Equally difficult can be the thought of holding a roommate  - who is a peer - to a standard.
Unit Standards is an on-going process that defines mutual expectations for how the roommates in a unit will function on an interpersonal level. Unit Standards further provide a mechanism for the roommates of a unit to respond to behaviors that violate the agreements of the unit.
Why have Unit Standards?
In Residence Life at Wright State University and the Lake Campus, we advocate for the fact that you, college students, are maturing adults. This means that you are making choices and learning from the outcomes of your choices. The young adult years are perceived as years of freedom, experimentation, limit finding, and limit testing. If the experiences during these years are to lead to an increased ability to make mature judgments, then you must have the opportunity to make decisions so that you can experience the result of those decisions. An important area of decision-making for college students concerns lifestyle and personal conduct.
Traditional college-age people typically reject "rules" imposed from the "outside". They may reject authorities who appear to be trying to deny them their "freedom" or "independence". At the very same time they may become angry with authorities who don't meet their needs at the time when they want their needs met. Unit Standards provide a means by which your expectations of the authority to meet your needs are shifted to a recognition that the individual and the community must work together to create an environment that best meets every ones' needs. The authority (your Community Coordinator) becomes a person who helps this process to happen instead of someone who fixes things for you or someone who always punishes behavior that is not in line with expectations.
If every student lived in perfect isolation, he or she could conduct him or herself in any way. In reality, we exist within a tightly networked society. This means our behavior impacts other people, and in the same way, the behavior of other people impacts us. Because we are affected by one another's behavior, we tend to have expectations about what we consider proper for the other person to do. We may or may not realize that our behavior affects others or we may believe that everyone has the same expectations that we have. This last concept can extend to a point where we believe that everyone has the same expectations at the same time, i.e., "if I want to listen to music now, everyone wants to listen to music now," or, "if I don't mind dirty dishes in the sink for a night or two then that will be fine with everyone in the unit."
If we are to live together in reasonable harmony, we must have the opportunity to express our expectations of how we want to be affected by others. By discussing these expectations you hear the range of expectations and therefore have a harder time holding on to the belief that everyone does "X" or that everyone wants the same thing that you want. Out of an awareness of expectations, you and your roommates can discuss your different expectations and come to agreement on ways that you can live with the differences or compromise around the differences. This process may not be easy because it requires many people to achieve new understandings and new behaviors quickly. One of these is the ability to consider another's point of view as being valid and thus needing to be taken into consideration in one's point of view.
The context of learning that is created by the Unit Standards discussion can be a powerful tool to encourage student development and a healthy community. We have already identified how the process can cause an awareness of others. It can also encourage you to build self-esteem through declaring oneself, through assertive interactions, and through the empowerment that comes from group agreement. By establishing Unit Standards and shared responsibility, you and your roommates are empowered to deal with problems before they occur.
What about Housing and University Policies & Procedures?
The University has policies and procedures by which all residents must abide. They represent the basic safety and management issues necessary to assure reasonable quality-of-life for all residents. Primarily they establish minimum behavioral expectations and are in agreement with local, state, and federal laws. Unit Standards do not replace these, nor may they be in violation of these. For example, a unit may not form a standard that their quiet hours will begin at 2:00 a.m. as Student Services and Residence Life & Housing have an established policy about quiet hours. However, these policies and procedures are of such basic nature that they should not impede a unit's ability to create the standards they desire. 
How are Unit Standards developed?
Unit Standards are developed through group discussion and consensus. Through this format each resident is afforded the opportunity to assert his/her point of view. An underlying tenet of this system is the belief that in order to have one's needs met, one must accept responsibility for participation in the system designed to negotiate one's needs. Through implementing the Unit Standards model, we are providing the opportunity for you to learn that you are responsible for your experience, and that you are not simply passive recipients of your experience. Recognition of this concept can lead to personal empowerment.
The staff persons in your community know a great deal about Unit Standards. It's a long but beneficial process. Please feel free to ask questions and by all means, get involved!
Weapons Policy
Wright State University-Lake Campus is committed to preserving the safety, security, and well-being of all residential students and their guests. Students, parents, siblings, and guests who may assist a student in packing and moving to campus must be aware of some important policies. 
The use, possession, or carrying of weapons, including, but not limited to, pistols, rifles, shotguns, air soft guns, paintball guns, all pellet/BB guns, dangerous knives, ammunition, or any stun device, or other dangerous weapons is prohibited while on university-owned or controlled property, or at university-sponsored or supervised activities, except by university police officers and other persons specifically authorized by the University. For fire and general safety reasons the possession of firearms, ammunition, firecrackers, explosive or combustible materials, and/or injury threatening weapons are strictly prohibited.
Individuals found to be in possession of a firearm may be subject to immediate cancelation of their Campus Housing Agreements and will face further university disciplinary and/or criminal action. The above mentioned policy also applies to guests of residents when they are visiting residents on campus.
A resident who hosts a guest is responsible for the guest's conduct at all times, as well as any damages incurred by that guest. Guests must comply with all university and community policies. Guests who violate a policy may be asked to leave the community and/or university property, and may be subject to further university action.
Please be aware of these policies when considering which items to bring to campus. Every student is responsible for knowing the rules and regulations of the university, so it is important for you to read the Wright State University:
Visitation and Overnight Guest Policy
This visitation policy is designed with the safety and consideration of our community members and property in mind. For the convenience of our community members, visitation hours in campus housing units are not limited. Residents are permitted to host guests at any time so long as the rights and privacy of the other persons living in that environment are taken into consideration. The definition of a guest is any person who does not hold a residence contract or lease for the particular unit. Due to safety concerns, at no time should there be more than 12 persons in a campus apartment. All roommates must be in mutual agreement about a guest before a guest may be hosted in the unit.
At the beginning of the academic year (and when a new student moves into the unit) all students will be required to participate in the Unit Standards process wherein typical roommate issues, including the hosting of guests, will be discussed and written in contract form. In cases where roommates cannot agree, the right of a person to occupy her or his room/apartment without the presence of an overnight guest must take precedence over the right of a roommate to host guests. 
A resident who hosts a guest is responsible for the guest's conduct at all times and any damages incurred by that guest. All guests must comply with all university and community policies. The host must be with the guest at all times. Guests are not permitted to be unescorted, and may not be left unattended in the host's living unit. If a guest violates a policy and is asked to leave the community by a staff member, the guest must comply. Failure to do so will result in a request for police assistance. Violation of this policy may include, but is not limited to, relocation of the violating resident or cancelation of the violating resident's housing contract.
Visitation - General Policy 
As stated above, this visitation policy is designed with the safety and well-being of our community members and property in mind. Visitation hours in campus housing units are not limited. Residents are permitted to host guests so long as the rights and privacy of the other residents are taken into consideration. A "guest" is defined as any person who does not hold a residence contract or lease for the particular room/apartment.
Expectations
All residents are required to participate in the Unit Standards process wherein typical roommate issues, including the hosting of guests, must be discussed, agreed to, and written in contract form. In addition to this formal process, roommates are encouraged to talk to one another about their equitable use of the room.
The right of a resident to occupy her or his room/apartment without the presence of a guest takes precedence over the privilege of a resident to host guests.
A resident who hosts a guest is responsible for the guest's conduct at all times, as well as any damages incurred by that guest. The host must be with the guest at all times. Guests are not permitted to be unescorted, and may not be left unattended in the host's living unit. Violation of this policy may result in, but is not limited to, loss of visitation privileges, relocation of the violating host(s), or cancelation of the housing agreement of the violating host(s).
Guests must comply with all university and community policies. Guests who violate a policy may be asked to leave the community and/or university property, and may be subject to further university action. 
Residents are encouraged to host no more than two guests, and are expected be considerate of the rights of their neighbors.
Visitation - Overnight Guest Policy 
The Overnight Guest Policy is an extension of the above General Policy. Unless otherwise noted, all general visitation expectations apply. An "overnight guest" is defined as any person who does not hold a residence contract or lease for the particular room/apartment and intends to occupy the room/apartment overnight. The university recognizes that residents may wish to occasionally host overnight guests, however, the presence of overnight guests requires consideration of the rights of all roommates. Residents must adhere to the following:
The residents' unit standards agreement must reflect an acceptance and willingness to occasionally host overnight guests. The right of a resident to occupy her or his room/apartment without the presence of an overnight guest takes precedence over the privilege of a resident to host overnight guests. 
The privilege of hosting an overnight guest is intended for infrequent, special occasions only. Under no circumstances are residents permitted to host overnight guests on consecutive weekdays or weekends as this is an imposition on the rights of the roommate(s) whether the roommate(s) is present or not. 
Prior to hosting an overnight guest, the host resident must obtain the consent of the roommate(s) and inform the Community Director of the guest for safety purposes. Registration of overnight guests is required throughout the duration of the housing agreement or lease, including break periods. 
Failure to register overnight guests will result in, but is not limited to, loss of overnight guest visitation privileges, relocation of the violating host(s), or cancelation of the housing agreement of the violating host(s).
WSUPD Silent Witness
To ensure the safety of the Wright State University community, the WSUPD has established a mission to:
provide the highest level of law enforcement service through the enforcement of laws and the protection of life, property and the constitutional rights of all. The Department exists to ensure a safe and secure educational environment that promotes diversity, tolerance, academic freedom, and respect for the individual.
For more information about the Wright State University Police Department and the officer assigned to Lake Campus, please visit their Web site or contact them directly via Student Services at 419-586-0300.
What is the Silent Witness?
To help facilitate the WSUPD mission, they have developed the "Silent Witness." This is an online form where the university community can anonymously report criminal activity on campus. To report a crime on campus, you can either call the Wright State University Police Department directly at (937) 775-2111 or fill out the Silent Witness Online form.
Cancelation
Fall 2017- Spring 2018
For Spring 2018 or Summer 2018: Two or more weeks prior to the designated move-in day for the semester, requests to cancel must be in written form; if less than two weeks prior to move-in day, requests must be submitted via the Appeals form. The date of the request will be determined by the date received if hand delivered, or the date of the postmark if mailed. 
Fall 2018- Spring 2019
For Fall 2018: Once an agreement is accepted, students will have until May 1, 2018, to be released from the agreement at no charge, upon written notification to the Office of Student Services. From May 2, 2018, through and including June 1, 2018, students will be released from the agreement upon written notification to the Office of Student Services, and one half of the prepayment refunded. Any returning student requesting release from the agreement after June 1, 2018, will be subject to the Appeals Board process detailed in Section II, Paragraph B.1. If the returning student requesting release after June 1, 2018, is released prior to opening day of fall semester, the returning resident will forfeit their entire prepayment. 
Full details can be found in the Terms & Conditions document for the academic term in question.
We do understand that circumstances may arise to change your housing plans and cancelation may become necessary. Students in a housing contract must request to cancel in writing.
This can be done by sending an email to housing_lake@wright.edu. Verbal cancelation will not be valid. Residents of campus apartments who wish to cancel after July 1st are under binding agreement and are subject to an Appeals Process. Please contact a campus housing staff member for more information.
Cance

lation

 Information Request- Request i

nformation about how to cancel or appeal your housing contract.

Automatic Release Form- Request to be released from your housing contract based on graduation, academic dismissal, or academic withdraw

Transfer to Wright State University Dayton Campus is not a reason for automatic release.

Contract Appeal Form- Begin the contract appeal process for any reason other than the three listed for the Automatic Release Form
Become an RA
Resident Assistant (RA) Applicant Information
Items needed for the 2018-19 RA application to be considered complete:
RA Application (button below) 
Two RA Reference Forms (button below)
Professional Resume (attach within application)
​Note: Applicants who do not submit the above listed items by Monday, March 12, 2018, will not be considered for the RA position. It is the responsibility of the applicant to ensure that Lake Campus Residence Life & Housing receives these documents. 
GO LAKERS and good luck this semester!
Successful RA Characteristics
Maintains a positive attitude
Spends a lot of time in housing community (availability)
Has flexibility
Demonstrates open-mindedness
Understands the need for teamwork
Exhibits leadership
Ability to deal with change
Willingness to learn and grow
Ability to separate objectivity from emotion
Has self-confidence without ego
Commitment to diversity
Commitment to oppression reduction
Ability to deal with challenging issues
Good communication skills
Creative problem solver
Loves living on campus
Willingness to help others without complaint
Likes to have fun
Utilizes creativity
Possesses patience
Utilizes good ethics
Is committed to the position and to success
Possesses intra-personal and inter-personal skills
Demonstrates maturity
Is compassionate
Can be empathetic towards others
Thinks about situations and problem solving
A strong sense of self awareness
Has a passion for helping others
Makes a commitment to helping students become actively engaged on campus (student organizations, intramural sports, university clubs, etc.).
Ability to manage time effectively
RA Job Description
Resident Assistant 2018-2019
Position Description
At Wright State University Lake Campus, the Resident Assistant (RA) position is an integral position within the Lake Campus Housing Department (Housing). Resident Assistants are Housing student staff members who have direct and constant, day-to-day resident interaction throughout the year. As paraprofessional staff, RAs engage in a very exciting, rewarding, and challenging experience. Those involved in the Housing program will have the opportunity to develop leadership skills and enhance their communication skills while gaining a better understanding of themselves and others.
Qualifications
A minimum cumulative GPA of 2.5 is required at time of application. Individuals selected for the Resident Assistant position must maintain a cumulative GPA of 2.5 through the end of the Spring Semester. Employment will not commence until the first day of the fall training period.  In the event that an individual who is selected for the RA position has his or her cumulative GPA drop below the required GPA at the end of the Spring Semester, that individual will immediately have the offer of employment withdrawn. Individuals will not be allowed to begin a position while on probation. Resident Assistants must be enrolled as full-time students (12 credit hours) at Wright State University-Lake Campus. Individuals should not apply for the position unless they are able to make an employment commitment for the entire academic year.
Compensation Package
Along with an invaluable and rewarding growth experience, Resident Assistants receive a $500 Stipend each semester; a single assigned RA room; and compensated telecom fees. Note: Facilities for partners and/or dependents are not currently available.
Employment Requirements
Resident Education
•   Mediate individual, roommate and unit conflicts.
•   Facilitate the Unit Standards Process, which includes facilitation of and/or assistance with regular floor/unit meetings, intimate knowledge of the model, mediation, diplomacy, patience, and maturity.
•   Facilitate developmental education programming in your building (includes both personal and academic development), in addition to Unit Standards. This includes: educational workshops and social activities planned with and for residents, as well as philanthropies/community service projects.
•   Create and maintain building and/or bulletin board decorations (educational, informative and inviting in nature).
•   Be familiar with university and community resources and their respective offices. Refer students to campus resources.
•   Be a Leader. Assume responsibility for residential student leadership development; participate in resident leadership activities; support residential student leadership initiatives and groups.
•   Be knowledgeable about and able to educate residents about residence education issues. Education issues may include, but are not limited to: oppression reduction, diversity, community development, alcohol education, health education, career exploration, academic success, personal development, community service, and civic education.
•   Assist students in maintaining a community environment that is conducive to study.
Human Relations
•   Reside in your assigned RA room and maintain a high degree of availability and accessibility in your community.
•   Create an environment that strives to enhance the health, safety, and well-being of residents.
•   Provide crisis intervention and be knowledgeable about referral sources.
•   Attend, participate in, and encourage resident involvement in community activities & events.
•   Maintain regular, scheduled contact with your fellow RA Staff, the Community Coordinator, and the Director of Student Affairs.
•   Work effectively with fellow staff members in a team environment.
•   Hold fellow staff members, as well as residents, accountable for group standards of behavior.
•   Interact with and develop relationships with residents.
•   Be a source of emotional support to residents (but, also set and maintain boundaries; help residents to help themselves) and make appropriate referrals as necessary.
•   Be a role model/mentor/source of encouragement and motivation to residents.
•   Respond to residential emergency situations and provide assistance as needed.
•   Assist with university and departmental recruitment initiatives as requested.
Administrative & Duty
•   Serve duty as required - duty includes, but is not limited to: rounds, lock-outs, roommate conflict mediation, response to emergency medical and maintenance issues, assisting professional on-duty staff, being aware of and reporting safety and security issues and other assigned duties. RAs are expected to remain in their communities while on-duty.
•   Be responsible for general facility well-being and provide assistance with maintenance issues (lock-outs, plunging toilets, wet-vacuum carpets, clean up basic spills & other messes, etc.).
•   Complete floor/unit reconciliation forms by specified deadlines.
•   Mandatory attendance and participation in all required training sessions and educational courses: Fall Staff Training & Winter Renewal.
•   Assist with RA and professional staff recruitment & interview processes as needed.
•   Attend and participate in staff and supervision meetings.
•   Assist with Fire/Health/Safety Inspections.
•   Facilitate beginning and end of year check-ins and check-outs and complete all related paperwork (registration cards, room condition forms, keys, etc.) by specified deadlines. Assist with mid-year check-in/out process & opening weekend welcome activities.
•   Deliver priority & non-priority resident mail and information (maintenance billing, flyers, etc.).
•   Post flyers/information and take down old information.
•   Distribute and collect assessment tools (surveys, evaluations, feedback cards, etc.).
•   Be familiar with and utilize electronic and web based forms.
•   Check and respond to voice-mail and e-mail daily. Represent Housing to the residential community.
•   Serve one office hour in a Community office per week completing paperwork, answering the phone, and processing other tasks assigned by the professional staff
•   Be a resident advocate - provide feedback to Housing and/or others regarding resident interests (e.g. academic success, student conduct concerns, and housing needs as it pertains to improvement of services); serve as a liaison between residents and the department.
•   Remain on campus at end of Fall Semester up to 36 hours after end of term.  Be available up to 48 hours after Spring Semester closing to assist with administrative tasks, check-outs and summer check-in.
Policy Enforcement
•   Interpret, enforce, confront and document violations of University and Housing Policy (discipline, business, and facilities policies included).
•   Document behavioral infractions and complete/submit related student conduct paperwork and within 24 hours.
•   Communicate with individuals regarding inappropriate behavioral issues & community concerns.
General Understanding
The Resident Assistant position requires strong leadership; it is understood that a significant degree of availability in the residential community and a significant time commitment is required for Resident Assistants to be successful with development of their respective communities and effective completion of their position responsibilities.  To be successful, a RA must make the position part of his or her lifestyle and have a passion for reaching out and working with fellow students on a daily basis. Individuals who apply for and accept the Resident Assistant position will be expected to utilize effective personal time and stress management techniques while successfully balancing academic studies, job responsibilities and a personal life.
Due to the time demands of the RA position, Resident Assistants who desire to take more than the normal undergraduate 16 credit hour load will need to receive advance approval from the Director of Student Affairs.  Individuals who desire to  take  graduate  (Master's,  Doctorate, and Medical School) classes or participate in student teaching, internships, co-ops or nursing clinicals will need to obtain approval from the Director of Student Affairs prior to being employed in the RA position.  Individuals who hold paid positions (limited to on-campus positions) may not be employed as a RA if compensation for that position is commiserate with more than 10 hours per week as such a position is considered secondary employment.
Given the important commitment a RA has to make to his or her community, as well as time demands on the Resident Assistant position, Resident Assistants are limited to no more than 12 hours of outside commitments to the RA position, including secondary employment (maximum 10 hours), community involvement, or campus leadership activities. Employment outside the department will be considered on a case-by-case basis. Such employment requires advance approval from the immediate supervisor. While supervisors will work with staff members as they juggle a second job, it will be expected that there will be no scheduling, time commitment or job concerns resulting from secondary employment and/or student teaching, internships, nursing clinicals or extracurricular activities. RA training is required for all staff and RAs. Pre-academic year RA training generally takes place for the entire two weeks prior to fall opening. A follow-up training weekend may also be required.
Resident Assistants will be assigned to a building as determined by Housing. Resident Assistants will be expected to remain in good academic and judicial standing with Housing and the University at all times. Upon leaving the RA position (whether by termination or resignation), the RA will not be allowed to reside in the same building in which s/he was employed. Individuals who quit or get terminated from their positions prior to the end of the employment contract may be subject to a $150.00 separation fee. The term of the RA contract is for one academic year only and reinstatement for the following year is not automatic.
The Resident Assistant position offers an attractive array of non-monetary benefits such as enhanced leadership skills, opportunities to grow and develop personally and professionally, transferable job experience, ability to communicate with a very diverse array of individuals, opportunities to challenge yourself and try new ideas in a supportive and non- threatening community, lifelong friendships that form as a result of the job, in-depth in-service and skills training, and opportunities to attend student leadership conferences, as well as have a lot of fun. However, the job is not for everyone. It is important that candidates, prior to applying for the position, reflect upon their own capabilities and motivations for applying.
Parent Guide
Welcome Parents!
Whether this is your first experience with higher education or another step in a long family tradition, you know that this is a critical passage for your son or daughter. As they take on new challenges, they prepare for full-fledged adulthood. It is our privilege to participate in that process.
Residence Life & Housing actively pursues to enhance the quality of life on campus, to support the academic needs of resident students and to compliment the academic goals of Wright State University. Your student will be invited to become a full partner in this endeavor. National research and our experience show that students who live on campus perform better academically and graduate earlier than their off-campus counterparts. I ask that you encourage your student to take full advantage of this marvelous opportunity.
The staff of Residence Life & Housing is committed to providing students with safe, clean, well-maintained, reasonably priced housing where both academic success and personal growth are promoted. So, please call on us if we can help in any way. 
What to Expect
The first year of college can be a very exciting, yet challenging, experience. Students may be leaving home for the first time and may be feeling a great deal of anxiety about the exploration, affirmation, and independence that lies ahead. The parent's role during this time is an integral part of the experience. How you respond to your student's concerns can have a great impact on his or her adjustment and success.
Being a parent of a first-year college student can be difficult at times. You may have feelings of frustration and helplessness. Parents must be prepared to listen and answer such concerns as "I don't like my roommate" or "this professor doesn't like me," or even "I want to come home." These are common first-year students' statements and can play an important part of the valuable process your students will undertake while establishing independence.
Parents should challenge themselves to be supportive while still allowing their student to take the proper steps towards adulthood. A common term used at colleges and universities is "empowerment," which, in this context, means to provide students with the skills and resources needed to make responsible decisions. Even while at home, parents play an important role in the process.
Common Concerns Of First Year Students
Care Packages & Mail
Mail for students is currently received by our Student Services Front Desk. Students should check with the Front Desk, when they are on campus to see if they have mail. We are ordering and will be installing pedestal mailboxes in housing. When the mailboxes are ordered and installed, students will be able to check their United States Postal Service Mail any time. Until then, students will need continue checking their mail at the Front Desk during normal business hours, Monday through Friday. The mailing addresses can be found under the Moving-In Tab. Please talk to your student to determine which building and apartment in which they reside.
Homesickness
Most students at one time or another experience homesickness. It is common for first-year students to feel it, especially during the first six weeks on campus. Parents can help by listening to their student and validating his or her feelings, offering to come and visit their son or daughter instead of having him or her come home, and/or encouraging their student to speak to a residence hall staff member or the counseling center.
"There is nothing to do here"
First-year college students may have difficult time getting involved at first. Although students do have to take some initiative, opportunities to get involved are available at virtually every corner- intramural activities, student leadership organizations, athletic teams and events, and social functions. If your student complains that he or she has nothing to do, please refer him or her to the Coordinator of Events/Engagement; here your student can find out about going to events or getting involved. Also, housing staff regularly offer social and educational programs for the buildings, giving students an opportunity to interact with their neighbors and learn skills that can help in class performance.
Academic Anxiety
Academic anxiety is a problem for many first-year students. College coursework is very different then curriculum in most high schools. Common anxieties among college students include time and priority management, scholarships pressures, and the structural differences between a typical college and high school day.
If you sense that your student is experiencing anxiety related to his or her classes and/or course work, a number of resources are available on campus to help: class instructors, Community Coordinator, Resident Assistants, and the Office of Counseling and Wellness Services.
Roommate Conflicts
When two people live in close quarters, conflict is bound to arise. Quite often conflicts arise because roommates fail to communicate their expectations. If your student has a problem with a roommate, encourage him or her to sit down and calmly discuss the situation with his or her roommate. If you feel the individuals involved need assistance resolving their conflict, refer them to the Resident Assistant or Community Coordinator. Staff will attempt to first resolve any conflicts with a roommate agreement. Most students find it extremely beneficial to complete a Roommate Contract at the beginning of the school year. The Roommate Contract is a tool in which all roommates sit down together and discuss rules for the room. Establishing parameters at the beginning of the year helps set tone for the remainder of the year. If necessary, an RA or the Community Coordinator may participate as mediator if necessary. The Roommate Contract becomes extension to the Student Code of Conduct should problems arise.
Safety and Security Tips
Living on campus today presents students with the unique opportunity to live and learn among a wide variety of peers and have a variety of experiences in doing so. In an effort to make this experience a positive one for students, Residence Life & Housing takes steps to ensure that certain needs are met, among them the need for safety and security. These steps include keeping hallway entrances locked 24 hours a day and making sure that a staff member (CA, PL, etc.) is on duty in each area whenever the Community Office is closed.
Even though Wright State takes these precautionary steps, there are steps you should take, too. In order to have more effective results when it comes to combating crime in the halls, it is important for residents to be empowered to take proactive steps to ensure their security. Developing simple habits from the moment you arrive on campus can head off big problems and headaches in the future.
Lock your doors and carry your keys whenever you are away from your room. Students should do this even if they are only going next door. Remember that a thief does not need much time to ruin someone's day.
Do not prop open any exterior doors, or allow them to be propped open. While propping a door open may be convenient for a student or their guests, remember that it is also convenient for a thief.
Keep a record of the serial numbers on your television, computer, stereo, bike, etc. It is also helpful to keep pictures of these items. Students may also want to consider engraving these items with their initials or an identification number. Taking these steps can be of great help in identifying stolen valuables.
Protect items such as credit and ATM cards. See to it that your PIN code is not written on either of these cards. Without this code, an ATM card is worthless to a thief.
Report Theft. If, by some unfortunate circumstance, you should have some of your valuables stolen, you can still take action. The first thing you should do is tell your staff member (RA or Community Coordinator, etc.), who can then fill out an Incident Report. The incident will then be on record with Residence Life & Housing. Next, you should file a report with the Wright State Police. You can then give them the serial numbers and copies of pictures that you have taken of your valuables.
Taking the aforementioned steps will greatly reduce the chances of you being victimized by a thief. While this is true, it is important to remember that these measures, which can be effective deterrents to crime, will only work if you take the initiative and responsibility to put them into practice.
Fire Safety
When the fire alarm sounds, you are required by law to evacuate the building, even in the event of a false alarm. The Fairborn Fire Marshall will administer fire drills randomly during the academic year. All individuals are to proceed 100 feet away from the building. Only when the alarm is silenced and the "All Clear" given by Residence Life & Housing Staff or the Wright State Police, may people re-enter the building. Students who do not vacate will be subject to judicial action.
Any student who knowingly or accidentally causes a fire will be handled through the Office of Community Standards and Student Conduct.
Sprinklers
Sprinkler heads must not be tampered with, or used as a means to hang personal items. Some of our facilities are equipped with sprinkler systems that will extinguish most major fires. These sprinklers put out 250 gallons of water per minute. You may end up flooding your room and many others at the same time. Wright State is not responsible for the loss you may incur as a result of someone else's negligence. A resident who knowingly or accidentally causes a sprinkler to activate may be charged in the judicial process.
Worried About My Child!
Melissa A. Giles, former Associate Director for Residence Life
Having a child living away from home can be stressful for some parents. Many worried thoughts may be tumbling through your head; "will my son eat right?" "will my daughter get enough sleep?," "will my daughter go to class?," "will my son's roommate be a good one?," "I'm spending so much money!"; Please be assured that many parents worry about these issues when a child goes away to college. It's OK to worry.
If you'll indulge me in some reflection for a moment... Recall, if you can, a time when you experienced a difficult period in your life. What was that time? Were there people around to make the problem disappear? Probably not. Were there people around to assist you in working through the problem and/or to be a support to you while you got through the problem on your own? Probably. How did you resolve the problem? Did you learn anything from the experience? Probably. Are you a better person for having struggled through the difficult time and for having gotten through it on your own? Probably.
Your child will experience some trying times while she/he is away at college. The difficulty may be with classes, it may be with managing money, it may be with roommates, or it may be another problem. I can recall many times when I have had the inclination to attempt to protect the people I care about from painful experiences. However, over time I've come to realize that I can't protect people from trying times and experiences for their whole lives. Firstly, because it's just not possible. Secondly, because I know that I've learned a great deal from making it through some difficult times on my own. One of the ways in which people grow and develop is through navigating difficulties and persevering over those difficulties on their own. It is important to remember that college is a time for your student to grow and develop and that with growth and development comes some challenges that your student must face on his or her own with a supportive ear and/or shoulder from an adult who cares about her/him.
When your student calls or comes home and describes a problem to you, try first to listen reflectively. This means that you should let your student talk about the problem and try to paraphrase what you are hearing and pick-up on feelings that she/he is having about the issue. This will help your student to reflect on the issue and will help him/her to feel that they have a listening ear. Even if you know how you would solve the problem or even if you think that one phone call from you would clear it up, it's important to help your student come up with some possible solutions on her/his own and to try out those solutions, sometimes even if you know that the solution your student has chosen won't work.
If your student is having problems you should also know that there are residential community staff members and other university staff and faculty members that are here for support as well. In the residential communities there are staff members called Resident Assistants (RAs) who are also undergraduate students and who are specially trained to assist students in working through their difficult times and who also know a great deal about Wright State's resources. In the campus apartment communities the very same staff members Resident Assistants. There are also several professional staff members that your student could go to for assistance called Community Directors or Community Coordinators who are a third type of staff member, who are Master's Degree holding professionals, that your student could go to for support.
Good luck in your adjustment to this new phase of your child's life and remember, it's OK to worry. Just know that through navigating her/his own difficulties, your student is more likely to become a mature, well-adjusted adult!
Parental Contracts
Students Treated as Adults
With few exceptions, Wright State students are at least 18 years of age. As such, they are considered adults by both law and practice. We work to create a living environment where students can grow and develop. Part of this maturation process involves "testing limits and boundaries." Our judicial process certainly takes this into account. However, an adult student is expected to be responsible for his or her actions.
Contract with the Student
The housing contract is signed by the resident. All policies and procedures outlined within it, the terms and conditions, and our Sourcebook apply to the student.
Governed by FERPA
Because Wright State is a state and federally funded institution, we must follow the Family Educational Rights and Privacy Act (FERPA) which prohibits Residence Life & Housing from releasing any information—besides the most basic "directory" information—about the student without the student's permission. This applies to family members. Housing administrative staff will use their best judgment about discussing roommates, finances, complaints, or other problems without the student's permission. In the case of dire emergency, we may choose to speak to family members. We do know this is frustrating—it is for us too—but we have very little "wiggle room" on this law.
Interested in learning more? Let us know!